In just over a decade, winemaker Romain Collet has turned his family's reliable if unremarkable domaine into one of the very best sources in Chablis. With a focus on lower sulfur, a transition to organics, and modernized cellar practices, the domaine has begun to realize its full potential. The wine press has taken notice too; William Kelley finds "a lot to admire here," and Jasper Morris recently opined that Romain Collet "is moving towards joining the pantheon in Chablis."
Collet's terrific crop of 2019 Chablis cuvées arrives in our warehouse today, and we're thrilled about the four premier crus and ageworthy Grand Cru Valmur, all terrific in 2019. But today we're beginning with Collet's simplest wine — a humble, village-level Chablis made from nearly 90-year-old vines.
The 2019 Chablis Vieilles Vignes far outperforms its billing, and at under $30 provides tremendous value.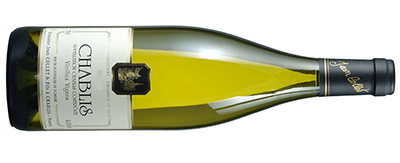 As vines age their production decreases as the quality of their fruit increases. (See our Journal post on vine age for a more extensive discussion.) Romain's vines for today's cuvée were planted in 1932, and produce very concentrated juice full of minerality and tension. It's so pure and vibrant that Romain ferments and raises the wine 100% in stainless steel.
Jasper Morris called the 2019 Chablis VV "a highly impressive old vine Chablis." Drawn from soils with very little clay, this is classic, old-school Chablis, full of dry extract and brilliant freshness. Look for dry citrus notes in the nose with oysters shells, salt spray, and melon. The mouth is long, stony and dry, with chiseled texture and not a shred of oak.
Pair this with something from the sea – scallops, lobster, oysters, halibut, or whatever's fresh at your local source.
____________________________
Collet Chablis VV 2019
bottle price: $29

FREE EAST COAST SHIPPING ON ANY 12 BOTTLES