Vincent Boyer is one of Meursault's young superstar winemakers. His golden white Burgundies from Meursault and Puligny are among the finest in our cellar. Vinous calls his wines "superb" and "very impressive;" Jasper Morris MW writes "Boyer seems to make better wines year after year."
Chardonnay is responsible for all of Burgundy's finest white wines. But 10% of white wine vineyards in Burgundy are Aligoté, a less celebrated grape that traditionally has produced simple, refreshing wines. Burgundian Aligoté is in the midst of a renaissance, with warmer summers and a perennial search for freshness combining to land the humble grape in the spotlight.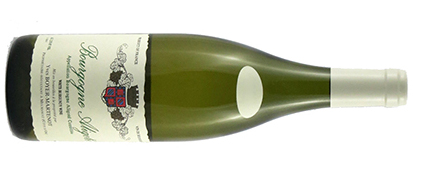 Boyer-Martenot's Aligoté is unlike any other we've had, with a rich mouthfeel and unusually complex bouquet. Through 45+ year old vines and barrel fermentation, Boyer turns this ordinary grape into a smooth, delightful white with notes of wild honey, herbs, flowers, and classic green apple. Burghound found "very good volume" and "concentration and verve," with notes of "white and yellow orchard fruit."
Abandon your prejudice about this unloved grape. In the hands of the right winemaker, and amid ever warmer growing seasons, Aligoté now competes with Chardonnay for entry-level Bourgogne.
____________________________
Boyer-Martenot Aligoté 2018
bottle price: $24