Since its early days Champagne has been synonymous with glamor and marketing. It can be easy to lose track of quality and distinctiveness amid the glossy promotional haze. But Pascal Bardoux, our tiny grower Champagne producer, cuts through the fluff. His tasting room is his small untidy office, where we taste slowly and thoughtfully from an old beat-up leather sofa.
And his wines, humble and delicious, are comparative bargains. Much mass-market Champagne that gets to the US fetches between $75 and $100 a bottle; Bardoux's small-batch Brut Traditionnel doesn't even crack $50 — twice the wine at half the price.
We like to enjoy Champagne year round – it's a perfect food pairing, and adds a bit of cheer to any situation. But at the end of every year it goes from a tasty treat to a necessity.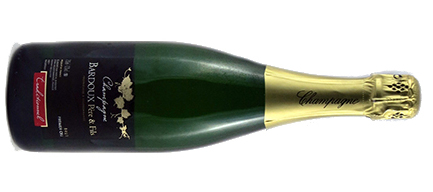 Bardoux's Brut Traditionnel is his non-vintage cuvée, and an excellent entrypoint to the collection. A blend of 60% Pinot Meunier, 30% Chardonnay and 10% Pinot Noir, this wine has the complexity and depth to match the finest bottles from Burgundy or Bordeaux. The nose shows plum, chalk, lime zest, and buttered biscuits; the mouth is dry, elegant, and smooth, with notes of apple and toast.
We can't recommend this wine highly enough. Think of it as a refined, complex wine in its own right; it just happens to feature bubbles. (Skipping the crowds this year? A $5 stopper goes a long way.) Some of our favorite pairings include: sushi, triple-cream cheese (like Delice de Bourgogne or Brillat-Savarin), or gougères. Or just a crackling fireplace and Bing on the speakers.
____________________________
Bardoux Champagne Traditionnel NV
bottle price: $49