Transition to organics/biodynamics may be trendy in winemaking today, but it's nothing new at the Domaine Pierre André in Châteauneuf-du-Pape. Jacqueline André's grandfather stopped using chemicals in his vines in 1963, and the domaine has been certified organic since 1980 – the first in the appellation.
As it turns out, he was on to something — those vines are now 140 years old, and continue to produce every year. Today Jacqueline André and her son craft the fruit of these ancient "grand dammes" (as they call them) into a single magnificent wine. No luxury batch or cuvée speciale here — just one red, outstanding year in and year out.
As winter approaches we tend to shift back to our "cozy wine" category – reds with mouthfilling textures, dark inky fruit, and long, layered finishes. So today we're suggesting Jacqueline André's magnificent Châteauneuf, the very definition of coziness. We have three vintages available, and are adding a trio (one of each) that ships for free for your last minute gift giving needs.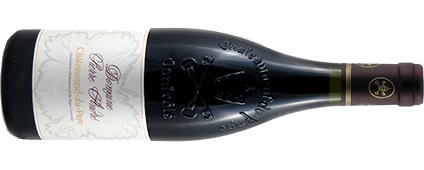 _____________________
André Châteauneuf-du-Pape 2018
Decanter writer Matt Walls listed André's 2018 among the top wines in the region, along with Châteauneufs from Beaucastel and Clos des Papes. Awarding 95 points, Matt Walls writes "it's remarkably vibrant on the palate, with tingling sandy tannins. Round and generous with good acidity and gorgeous freshness." It shows beautiful essence of strawberries in the nose, with excellent density and a long, silky finish. Delicately crafted tannins support the perfectly ripe fruit, without a hint of overripeness or bitterness.
bottle price: $59

_____________________
André Châteauneuf-du-Pape 2017
The 2017 Châteauneuf-du-Pape red offers a beautifully expressive nose of plum/raspberry fruit, smoke, and pan drippings. It fills the mouth but is neither hot nor heavy; there's plenty of support but the structure is beautifully knit together. This wine will be delicious in its early years when the fruit dominates, and it will be equally delicious as it evolves over the years to show notes of leather, licorice, and forest floor.
bottle price: $58

_____________________
André Châteauneuf-du-Pape 2016
From a near-perfect vintage in the southern Rhône, this is the most serious cuvée of the three – it's beautifully structured, and beginning to shed its "baby fat." Though it's lush, intense, and enormous, it achieves it all without becoming flat or dry. Look for notes of plum, licorice, dried black spices and tapenade in the nose — the mouth is dense and extremely long, with bold flavors of cherry jam and wood bolstered by rich, voluptuous tannins.
bottle price: $58

_____________________
CDP Vertical Trio
One bottle of each vintage, free East Coast shipping
bottle price: $165