Though it has no Grand Cru vineyards, the wines of Meursault are some of the most sought after in the world. Traditionally Meursault inhabits the decadent, opulent end of the white Burgundy spectrum, drawing on clay-heavy soils to produce muscular, mouthfilling white wines.
In recent years the style has shifted towards less fat and more tension, and the average Meursault today is livelier than it was 20 years ago. Vincent Boyer makes several cuvées in this more modern style, but today's is a traditionalist. Drawing on nearly 100-year-old vines for extra concentration and depth, the Meursault "Ormeau" is classic: rich, decadent, and flat-out delicious.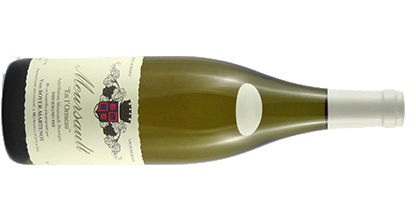 Planted in 1924 by Vincent Boyer's great grandmother Lucie, the "Ormeau" vineyard is named for the elm trees that once shared the clay-rich ground. This is classic, mouthfilling Meursault – showing peaches and citrus, with pear and a faint nuttiness in the nose. All of Boyer's wines are rich, elegant, and complex, but "Ormeau" is among the most classically Meursault in the lineup.
The 2019 is outstanding, and a more serious take on the vineyard than in some years. There's the classic Meursault nose – hazelnuts, white flowers, stones – but the mouth shows added concentration and superb energy. It's still a traditional fleshy Meursault, but there's no denying there's more substance here than in some vintages. Burghound noted the same thing, writing "The old vines are in evidence as there is an abundance of dry extract." He labeled it "outstanding," and called it "a very good Meursault villages."
We welcome Meursault's new look, but it's always nice to have an old reliable to fall back on.
____________________________
Boyer-Martenot Meursault "Ormeau" 2019
bottle price: $72