For years we searched for a source in Chambolle-Musigny. The town has both a stellar reputation and miniscule size (population 300), and it hasn't been easy to find a domaine without existing importing relationships. But a few years ago we finally stumbled upon the Domaine Boursot, a humble family of winemakers right in the heart of Chambolle.
The Boursots began making wine in Chambolle-Musigny in 1550; for centuries, like many Burgundy domaines, they sold their entire production each year to the negociants of Beaune. In 1974 Remy Boursot began bottling on his own, and today it's his sons Romauld and Romaric making the wines as the 15th generation of Boursots.
We discovered the Boursots in part via a note from Vinous's Burgundy reviewer Neal Martin, who writes of a "foundation for a promising future," and describes Boursot's wines as "superb," "excellent," "very fine," and "worth seeking out."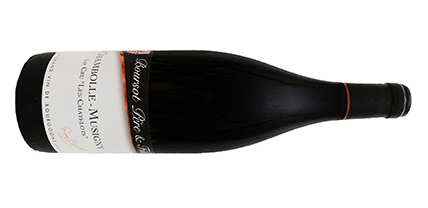 Boursot's 2019s are terrific across the board, and we've already sold out of a few cuvées. Their Chambolle 1er cru "Chatelots" is their friendliest premier cru, and the one always drinks well first – 2019 is no exception. The nose is classic Chambolle: cassis, silk, toast, and stones. The mouth is approachable but with excellent concentration – it should age well for several years, but won't last long in our cellar if it continues to drink like this.
Neal Martin gave 90-92 points, finding "a more generous, quite feisty bouquet," "nicely defined and quite glossy," with "supple tannins, fine depth and gentle grip, a touch of welcome salinity appearing toward the finish." This is at once serious and drinkable, with the depth and richness of a premier cru but the approachable ripeness of a mature wine.
____________________________
Boursot Chambolle-Musigny 1er "Chatelôts" 2019
bottle price: $108