Some wines we import are serious and ageworthy, requiring patience and investment to achieve their potential. Others are less complicated – simple, single-note wines that are inexpensive and easy to enjoy. We think both genres have their moment, and always like to have some of each at the ready.
Today's wine is firmly in the second camp – indeed the best word to describe it might be "fun." Jean-Louis Tribouley is a hardworking winemaker crafting wines that require no work at all. He practices organic farming, biodynamics, and low intervention. His property is high in the hills of the Roussillon, a remote winemaking area near France's border with Spain.
Tribouley's cuvées are delicious, wild, natural, and beautifully balanced – perfect for a sunny July afternoon.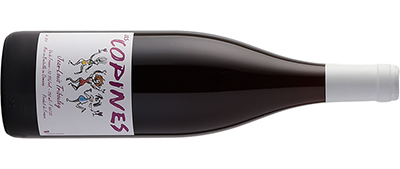 Tribouley's simplest (and probably most pleasant) wine is "Copines," a blend of 70% Grenache, 20% Syrah, and 10% Carignan. The Grenache dominates this wine – an explosion of wild strawberry jam bursts from the glass. The mouth is lightweight and refreshing, with a pleasant natural funkiness alongside the pure smooth fruit.
Grenache is capable of profound richness and complexity (see Châteauneuf-du-Pape), but also of light-bodied freshness (see today's wine). Serve this wine as you might a rosé – as an aperitif, or with cheese and crackers on the front steps on a warm summer evening.
____________________________
Tribouley Copines 2020
bottle price: $22

FREE EAST COAST SHIPPING ON ANY 12 BOTTLES