New winemakers in Burgundy are hard to come by. It's a tiny region, and between small harvests, ever increasing demand, and well-established importers, it can seem there's nothing new to discover. Which makes us even gladder of our most recent Burgundian find: the Domaine Boursot in Chambolle-Musigny.
Neal Martin of Vinous writes of a "foundation for a promising future," and describes Boursot's wines as "superb," "excellent," "very fine," and "worth seeking out." Having received our third vintage from Boursot, we're pleased to report our (and Neal's) initial enthusiasm was well founded.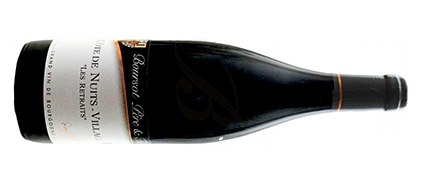 Boursot is best known for their excellent Chambolle-Musignys, which are excellent and come highly recommended. But their hidden gem is their Côte de Nuits-Villages. Made from vines immediately on the other side of the wall from Chambolle royalty Frédy Mugnier's famous Nuits-St-Georges 1er cru "Clos de la Maréchale," this greatly overperforms its class.
The 2019 is as good as you'd expect from an outstanding vintage and supremely well-located terroir. It's classic Boursot style: the nose is dark and briary, with Côte de Nuits cassis and hints of black pepper and toast. The mouth is punchy and juicy, with a woodsy mouthfeel laid over lots of beefy extraction. The tannins are approachable and youthful, full of energy and texture without an ounce of harshness.
Neal Martin found "plenty of energy and charm," with a "fleshy" palate and "quite a sensual finish." Bill Nanson wrote simply "a great CDNV! Bravo!" Is it as good as the $175 Premier Cru Nuit-St-Georges next door? Nope. But at a quarter of the price it's easily a better buy — loaded with character, presence, and depth.
____________________________
Boursot Côte de Nuits-Villages 2019
bottle price: $42