Chambolle Musigny's famous terroirs are the Grand Crus Musigny and Bonnes-Mares, and Premier Cru Amoureuses. All three fetch prices north of $500/bot, and are among the jewels of many serious collectors' cellars.
But the undisputed fourth-best terroir in the town is Les Fuées, a premier cru immediately next to Bonnes-Mares. And it's here that today's wine originates. Our Chambolle source is the Domaine Boursot, which farms 75+ year old vines in Fuées – and the wine they produce is exceptional. It's not cheap, but next to the top three it's a bargain.
(We usually don't use the words "fourth-best" to sell readers on a wine, but this is Chambolle, so even 24th-best would be special.)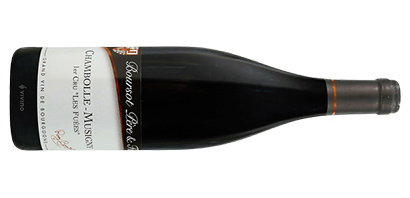 Boursot's 2019 Fuées marries power and grace in a way only a Chambolle vineyard can. Vinous's Neal Martin awarded 93 points, finding it "refined' and "supple." The nose is dark and brooding, with cassis, violets, and gingerbread. The mouth is huge and intense, and yet elegant and silky in a way only Chambolle can be.
Mugnier's Chambolle Fuées goes for $900/bot, and we're certainly not saying Boursot's would win in a prizefight. But pound for pound, at around a tenth the price, it more than holds its own.
____________________________
Boursot Chambolle-Musigny 1er "Fuées" 2019
bottle price: $129
3+ bottle price: $109.65 (use code FRIDAY)