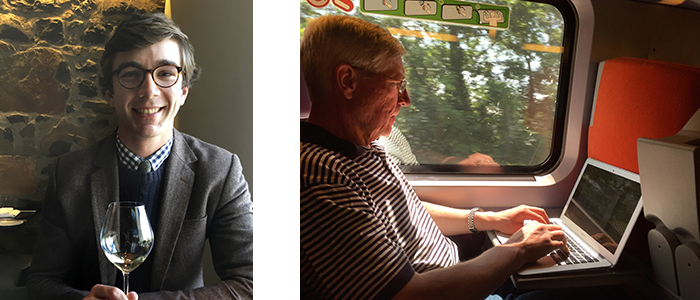 Ansonia Wines is Mark and Tom Wilcox, father-and-son wine merchants based outside Boston. We specialize in small-batch, artisan French wines — all from winemakers we know personally.
---
What do we do?
We find small-scale French winemakers making honest wines that reflect their origin. We bring the wines back to the US, and sell them directly to collectors and enthusiasts through our website.
We believe that people enjoy wine more when they know something about the people and places who make it.
Our goal is connect wine drinkers to winemakers.
---
How to join the list:
We're primarily an email-based wine retailer. We write a feed of 4-5 articles each week, and share them with our subscriber list.
Each article contains background information on the wine, the winemaker, and the region; we use maps, photos and recipe pairing ideas to help tell the story of the wine.
UPDATE: As of July 2017 all our wines are available at any time through our redesigned site.
Start by browsing our favorite Collections of wines.
---
Free Shipping!
We arrange shipping to states where it is permitted.
We think our customers should pay for wine, not for cardboard. So we offer free shipping on a case (any 12 bottles) to addresses in the Easter half of the US. (For addresses west of the Mississippi River, shipping is free for 2+ cases, or any 24+ bottles.)
Warehouse
On Saturdays we open our warehouse in Newton MA to the public. We have something open to taste each Saturday. Customers may pick up their online orders, browse our selection, and purchase directly from the warehouse. We're also open during the week by appointment. Read more about our warehouse here.
---
A brief video about Ansonia
---
Ready to explore the site?
---
What people are saying about us:
"Thank you for connecting consumers to producers in such a compelling fashion. There are very few vendors/importers / distributors that have such authenticity." – Peter W.
"The real feedback is that your descriptions of each are spot on. This is unusual in the online wine buying world." – Joseph B.
"I love everything about your business – each bottle of wine comes with so much more than the juice inside – the bottle is also filled with the personal service, passion, and wine education you provide. I particularly love the Depot atmosphere – you can really feel the love , not only from Tom and Mark, but also from all the individual winemakers who you work with, who impart the virtual terroir of the wines they craft." – Mary C.