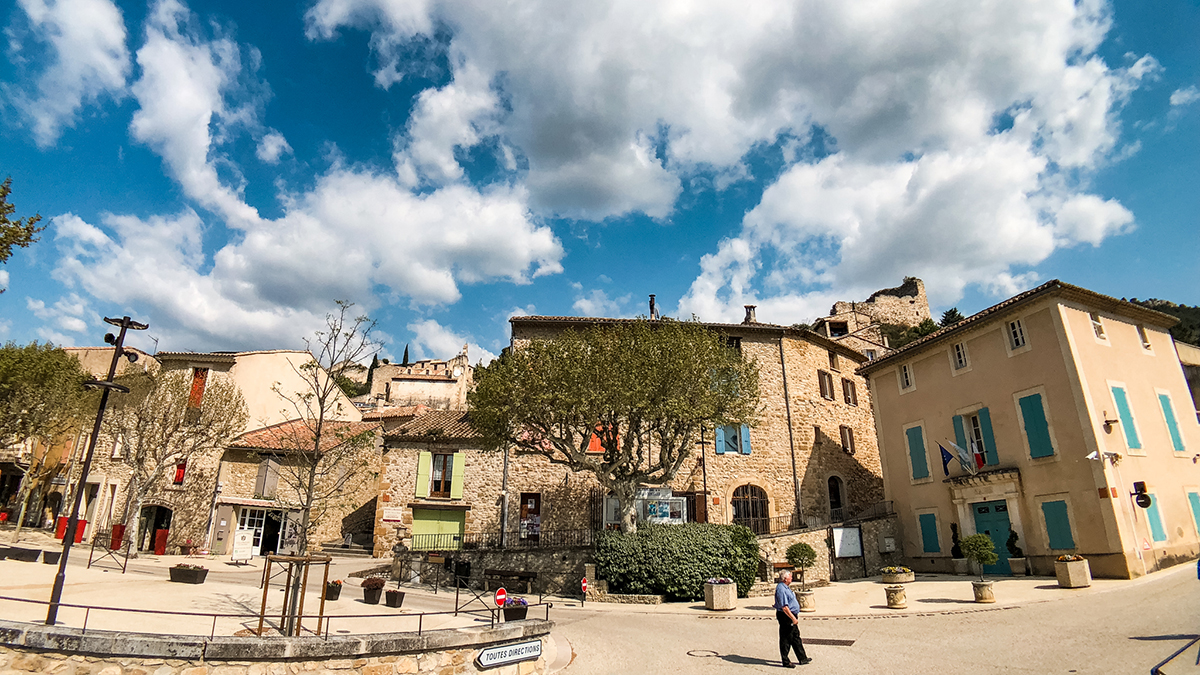 Village Profile: Gigondas
July 20, 2021
The city of Paris is arguably as recognizable a brand as the country of France itself. It's more than double the size of the next largest city (Marseille); historically and culturally, no other French city even comes close. Similarly, Châteauneuf-du-Pape dominates the Southern Rhône landscape — the largest, best known, and most important. But to visit France and never leave Paris is to miss an entire world; and the same applies to the Rhône Valley.
Twenty minutes east of Châteauneuf-du-Pape lies a collection of less famous towns, which produce wine in a similar style to their famous neighbor. Chief among these is the town of Gigondas, a source whose finest wines we think rival the great Châteauneuf.
History
Winemaking in Gigondas dates at least to Roman times, when the town was known as Jucunditas (a latin word for "giving joy"). Locals have found pottery, coins, and foundations dating to the Second Roman Legion (first century AD) in the area surrounding the town.
At the end of the 19th century the vineyards of Gigondas fell victim to phylloxera, a root-louse that decimated large swaths of vines across Europe. Many locals replaced their vines with olive trees, and olive oil production remains a tradition in Gigondas today. But in the winter of 1956 a devastating frost drove temperatures below freezing for over a month, killing olive trees and vines alike. Locals took this as a sign to turn their focus back to grapes, and most replanted their fields with vines.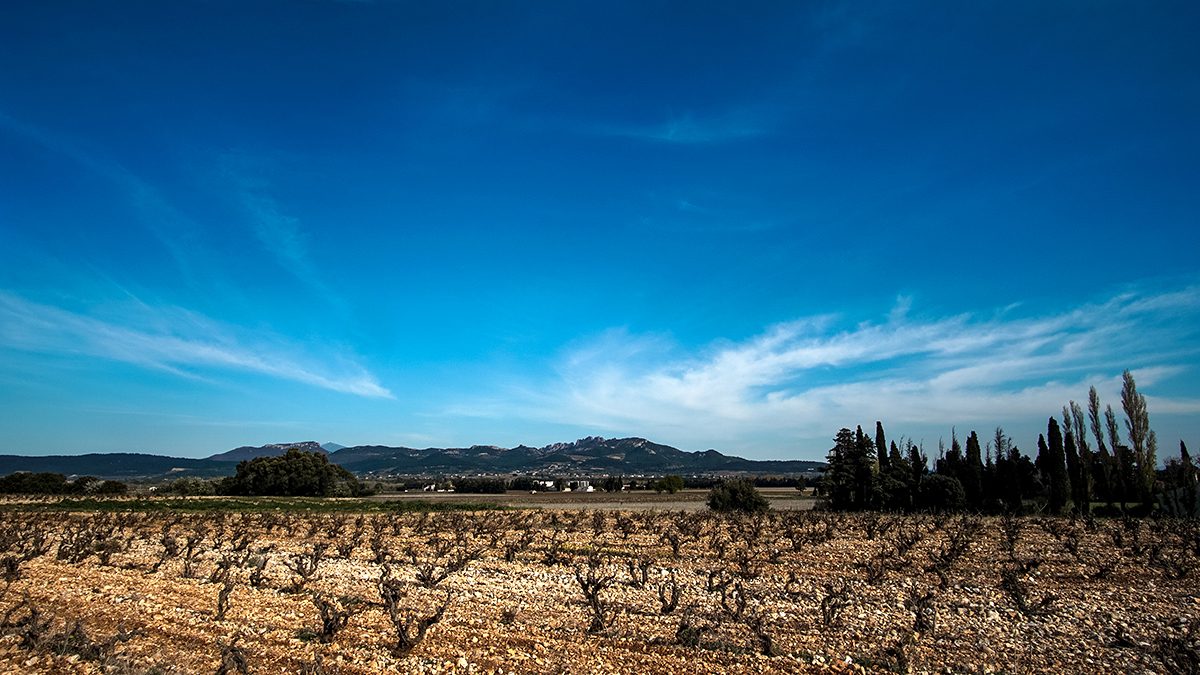 Grapes and Ground
Gigondas covers around 1,200 hectares (about 3000 acres) of vines, compared with 3,200 ha (7900 acres) in Châteauneuf-du-Pape. Though vignerons tend nearly a dozen different grape varietals, Grenache dominates, amounting to nearly four out of every five vines. Gigondas can contain up to 80% Grenache, and Syrah and Mourvèdre are the most common other varietals blended in; the Carignan varietal is not permitted in any percentage. Nearly all of the production (99%) in Gigondas is red, with only a handful of growers making a small amount of Gigondas rosé.
The appellation sits on the slope of the Dentelles de Montmirail, a jagged limestone outcropping visible for miles across the valley. The soils of Gigondas are all relatively clay-rich, giving the wines power and intensity. Most vineyard sites also include sand and fine limestone pebbles, allowing for excellent drainage. The steep Dentelles mountains help keep air in constant circulation, allowing the grapes to ripen more slowly than on a hot, flat plain – this preserves freshness and acidity, giving the wines of Gigondas particular balance.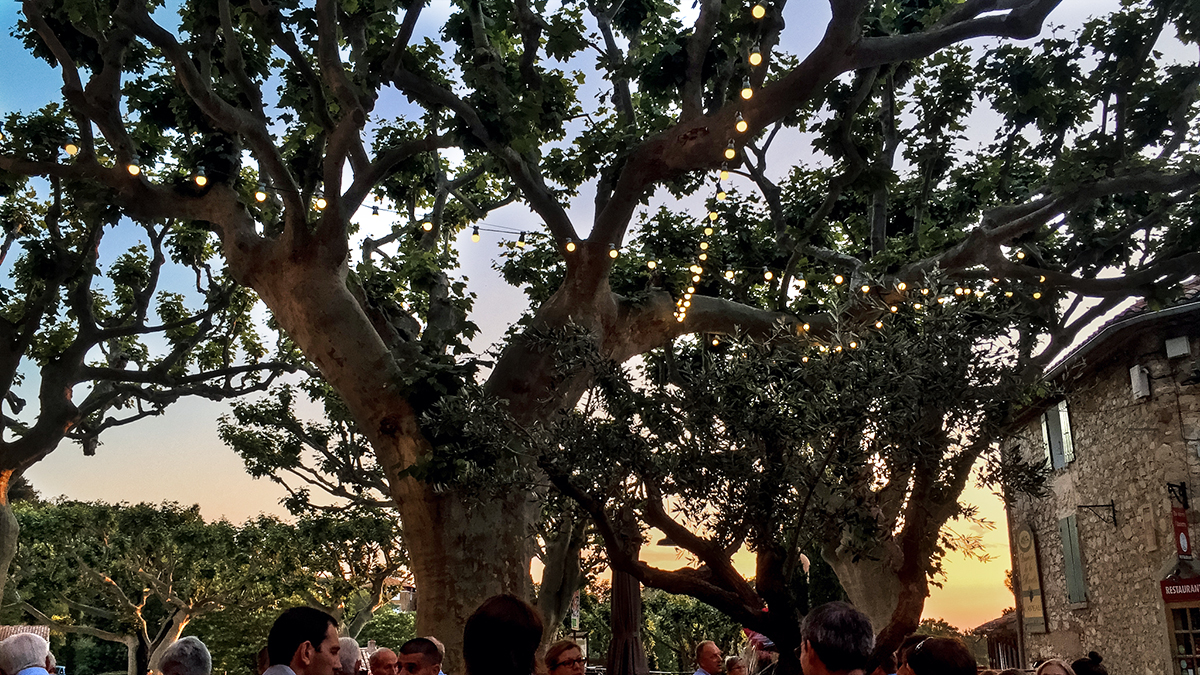 Taste
Gigondas of course varies widely depending on winemaking technique, but most are rich, bold, intense and earthy. Many wines show a signature note of "garrigue," the flavor of the Provençal soil — combination of lavender, thyme, earth, sage, etc. With Grenache as the dominant varietal, the fruit notes in Gigondas are typically red and ripe, ranging from wild cherries and strawberries to blackberry and cassis. Spice notes often include white pepper, licorice, garrigue, and boxwood. With time in the bottle, Gigondas develops lovely secondary aromas of forest floor, mushrooms, and leather. Traditional Gigondas is raised in large wooden foudres or concrete tanks, rather than new oak barrels; but today some growers make special cuvées using smaller oak barrels, a practice also common in Châteauneuf-du-Pape.
The rich, mouthfilling qualities of Gigondas makes it an excellent match for hearty cuisine — stews, lamb, braised meats, and barbecue. Meat dishes with middle eastern spices are a particularly nice match.
Future
As demand for mid-to-high end wine continues to increase, the quality of Gigondas continues to rise. While prices at the top estates now match those of Châteauneuf-du-Pape, the standard of wine has risen in step. And when compared with the prices in Bordeaux and Burgundy, or even further afield in the rest of the world, Gigondas continues to punch above its weight. As Vinous writer Josh Raynolds puts it, "in the context of the world's best wines, almost every Gigondas delivers solid and even remarkable value… I would happily match up the finest wines in this report against plenty of wines from both Old and New World regions that cost two or three times (or more) more per bottle."
Ansonia Producers in Gigondas
Domaine les Goubert
Clos du Joncuas