Buying Burgundy is a tricky game. Many wines take years to mature, and early on it can be difficult to know what they'll become. But tiny quantities often mean only one chance to buy each vintage. We swallow hard, make our best guesses, and then wait.
Years later when the wines begin to flourish, we always regret not having bought more. Such was the case with two wines from Michel Gros that have recently become spectacularly good. Luckily enough, we have access to a small cache of each at the domaine.
We will include these wines in our March Futures Issue, to be released next week, but we think it wise to begin making reservations as soon as possible. Orders are first come, first served: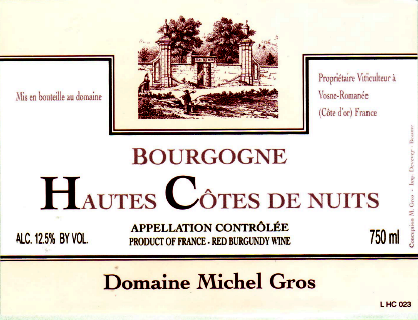 MICHEL GROS HAUTES-CÔTES DE NUITS 2008
We often use Michel's simpler wines to introduce people to red Burgundy. The price is more manageable, but they show the beautiful balance between earth and red fruit that that draws so many people to Gros.
Gros's Hautes-Côtes de Nuits 08 is undoubtedly having its moment now. The nose has blossomed into a lovely collection of cinnamon, earth and smoke, while the mouth has rounded out and lengthened, with notes of dark cherry pie.
This wine has been putting smiles on Burgundy lovers' faces since last August. It's been on the list at Craigie on Main, one of Boston's finest restaurants, since late last year. And now it can be yours – straight from the domaine.
Ansonia Retail: $32/bot
Futures Price: $275/case    ($22.91/bot)
_______________________
MICHEL GROS NUITS-ST-GEORGES 2009
As those who follow Burgundy know, 2009 was a near perfect vintage – beautiful grapes and plenty of them. We stocked up on this wine when it was first released, but when we opened it this month for restaurants (including Boston's l'Espalier), they immediately blew through the rest of our stock.
Grown from plots on the Vosne (northern) side of Nuits-St-Georges, this wine combines masculine structure with a bit of Vosne's grace. The fruits are darker and more roasted, and the nose shows licorice and spice. In the mouth the wine is remarkable – long and dense but full of tension. This wine has many happy years ahead of it, but it's certainly off to a good start.
We're surprised (and thrilled) that there's some of the Nuits 09 left in Vosne. But it's not much, so interested readers would do well to act quickly.
Ansonia Retail: $65/bot
Futures Price: $585/case   ($48.75/bot)
_______________________
We accept orders in case and half case lots, first come first served. To order, send your desired quantities to orders@ansoniawines.com. We'll put add your order to the March Futures orders, and you're free to make additions when the March Futures Issue is released next week.
Mark and Tom
_______________________