Latitudes.  It is said that grapes find their highest expression at the northern-most end of their range – Burgundy Pinot Noir and Mosel Valley Riesling are two examples of this. A third example, and perhaps the best example in comparison to its other homes, is Syrah from the Northern Rhône.
Syrah is grown all over the world, but by far its greatest expression is just south of Lyon. Here, as Rajat Parr describes it, Syrah "marries the joy of bountiful, juicy fruit with the visceral attraction of animal wildness." With little chance of putting it more poetically, we'll introduce today's wine: Syrah VDP 2011 from Stephane Montez.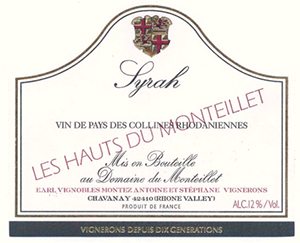 A low-alcohol bargain.  Syrah grown in such storied Northern Rhône appellations as Côte Rôtie and Hermitage benefits greatly from (and often requires) bottle ageing. Montez's Syrah hails from a less-celebrated plot, but requires no ageing and can be had at a fraction of the cost.
The Montez Syrah shows cloves, bacon, and blackberries in the nose, and has a lively, fruit-filled mouth. At 12% alcohol, the wine is the antithesis of a warm weather shiraz. Missing some "animal wildness" in your life? Try some of this.
MONTEZ SYRAH 2011
Ansonia Retail: $17
offer price: $14.95/bot
case price: $13.95/bot       (use code: WILDNESS)


_
_________________________________________________