Wine of the Trip.  We've tasted a lot of wine over the past few weeks: 40 winemakers, three regions, and several hundred wines in all. Friday night, over Breton oysters and Muscadet in a Nantes brasserie, we made the "Best Of" list — "most memorable meal," "most exciting new producer," and "wine of the trip."
The meal and producer awards required some thought, but the wine of the trip was easy: a 2006 Corton Bressandes Grand Cru from the Domaine Ravaut. At the end of our extensive tasting of newly bottled 2013s a few weeks ago, Mr. Ravaut suggested we try something from a little deeper the cellar. He disappeared for a few minutes and returned with an unmarked bottle.
From the moment it hit our glasses, this wine was extraordinary. The nose was beautiful and perfumed, with notes of flowers and graham crackers; the mouth was dense and velvety, showing raspberry confit, cinnamon, and hints of sous-bois. We marveled at how much of the core structure remained, though softened beautifully over nine years.  It seemed likely to weather the next nine with similar grace.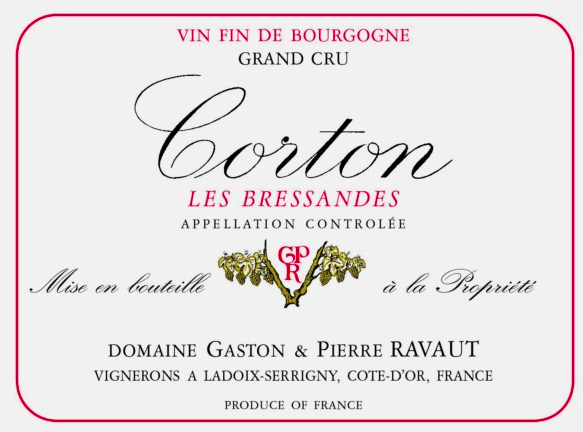 From the Cellar.  Maybe it was our reaction, or maybe Mr. Ravaut was just feeling generous, but we convinced him to set aside a few cases for our Futures group.  Ravaut's 2013 reds and whites will appear in the July Futures Issue (to be released next weekend), but we're starting the bidding early for this one.
It's unusual to have the opportunity to buy Grand Cru red Burgundy with nine years under its belt. But it's even rarer to find it with perfect provenance — this hasn't left the vingeron's cellar since the day it was bottled. Pick up a case for yourself, and the choice of whether to drink now or in a decade is entirely yours.
First come, first served; orders in lots of 6 bottles.
_
________________________

RAVAUT Corton-Bressandes Grand Cru 2006
Ansonia Retail: $80
Futures Case Price: $650  ($54.16/bot)
_
AVAILABLE IN 6-  AND 12- BOTTLE LOTS
_
_
_
_____________________________