Altitude. On Saturday night, for our final meal in Paris, we sat outdoors at a charming restaurant in the Latin Quarter. We didn't recognize any producers on the their small but thoughtful wine list, and ordered a bottle of red from Pic-St-Loup in the Languedoc. It was fresh, very well-balanced, and delicious.
The secret about Pic-St-Loup is that it's the furthest north of any sector in the Languedoc, and also boasts the region's highest altitude vineyards. This geography keeps the wines fresh and lively in a region known for hot sun and high alcohol. Our source for Pic-St-Loup is the Mas Foualquier, a biodynamic domaine that takes full advantage of the appellation's capacity for balance.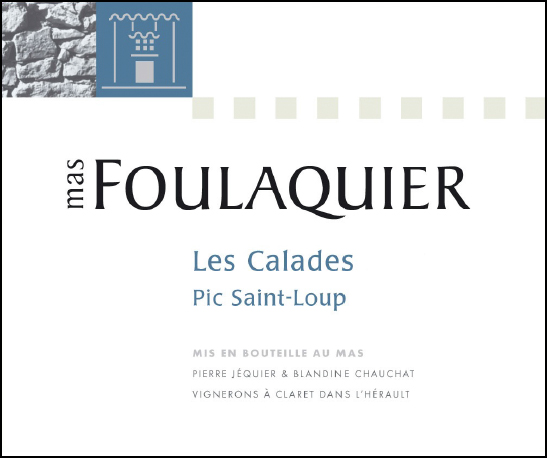 Dark and fresh.  Foulaquier manages to craft wines that are rich but not heavy. Using mostly Syrah and Grenache, winemakers Pièrre Jéquier and Blandine Chauchat create dark, dense, meaty wines that remain balanced and refreshing on the palate. Today's wine, "Les Calades," is a majority syrah cuvée that shows blackberry and baked raspberry, with sweet spices, licorice, and menthol.
At only 13.5% alcohol, this wine shows an energy usually reserved for wines from further north. In the mouth are cool, elegant tannins that are careful wrapped and perfectly ripe — there's also a silky texture that comes from Foulaquier's choice neither to fine nor filter their wines, leaving the natural fullness of the blend.
We like serving this just a touch cool, paired with something smoked or grilled.
_
________________________

FOULAQUIER Calades 2011
Ansonia Retail: $34
offer price: $28/bot
_
AVAILABLE IN 6-  AND 12- BOTTLE LOTS
_
_
_
_____________________________