Fruit and Spice. The first thing we consider when describing a wine is its fruit. We decide whether the fruits are light or dark, cooked or fresh, sweet or dry, and so on. An astounding range of scents can emerge from a glass of wine despite their common source, Vitis vinifera.
But it's often the second note emerging from a wine that distinguishes it from the crowd. In Burgundy it may be earthy and woodsy, in Sancerre, smoky, and in Alsace, floral. And in Crozes-Hermitage, where today's wine is made, it's unmistakably spice. This note is among the most distinct of any wine we import, and it's one of our favorites.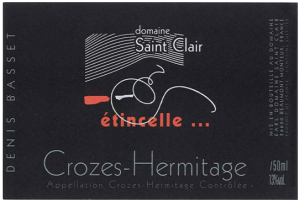 Pure Syrah.  The Syrah grape finds its greatest expression in France's Northern Rhône Valley, and it's here that Denis Basset crafts his Crozes-Hermitage. The wine is pure Syrah — at 13% alcohol it's dark and chewy but beautifully balanced. It's the antithesis of a warm-weather new world Syrah (or Shiraz).
Basset is a young organic winemaker who is passionate and very talented — the latest issue of the Guide Hachette featured two of his four wines in 2012 (including this one), an impressive feat for a winemaker who started only five years ago. We've just been restocked with his delicious 2012 Crozes, and are thrilled to start drinking it again.
The fruit profile is dark blackberries, followed by an extraordinary range of other spices: cloves, anise, tobacco, and black pepper to name a few. There's a hint of savory, smoky bacon as well, and the finish is long and fine and delicate. We like this wine best with lamb or beef — this grilled lamb shish kabobs recipe should make a lovely match.
_
________________________

SAINT-CLAIR Crozes-Hermitage 2012
Ansonia Retail: $26
offer price: $22/bot
_
AVAILABLE IN 6-  AND 12- BOTTLE LOTS
_
_
_
_____________________________