Consistency.  Jean-Louis Amiot is on a roll. In the last few years Amiot has hit his stride, producing consistently excellent wines in vintages that have been anything but easy. Yesterday we visited the domaine to taste his 2013s, and were once again impressed at the quality in a difficult year. They'll be included in next month's July Futures.
In the meantime, we're enjoying several of the Amiot back vintages in our cellars. Last month we wrote about two excellent Premier Crus from Morey-St-Denis (Ruchots and Aux Charmes), both drinking beautifully now.  Today we're releasing the finest wine Amiot has to offer: the Grand Cru Clos de la Roche 2012.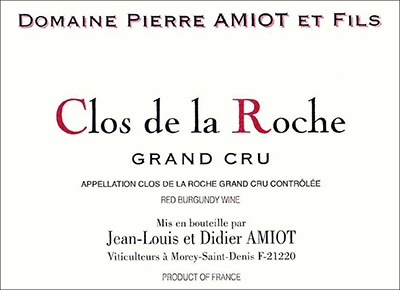 Crème de la Crème.  Grand Cru wines represent the pinnacle of Burgundy — just 1.3% of the wine produced in the region receives the designation. Clos de la Roche is one of five Grand Crus in Morey-St-Denis, a vineyard Clive Coates describes as showing a signature "lushness."
Amiot's Clos de la Roche 2012 is fine and dense — very dark berry fruit mixes with gingerbread and toast in the nose; and the mouth is long and concentrated, with good density and structure. Jean-Louis councils 5-10 years for his Clos de la Roche, so there's no rush to consume this one.
Grand Cru Burgundy is one of the world's great culinary treasures, served to kings and heads of state for centuries. We like to have a few bottles around for special occasions, and we think everyone should have some treasure in our cellar.
NOTE: We're relaxing our normal half-case minimum to 3 bottles.
_
________________________

AMIOT Clos de la Roche Grand Cru 2012
Ansonia Retail: $138
offer price: $124/bot
_
AVAILABLE IN 3-  6-  AND 12- BOTTLE LOTS
_
_
_
_____________________________