The Burgundy Secret.  Wine writer Rajat Parr describes St. Aubin as the "insider's white Burgundy." Wedged in a valley between Chassagne and Puligny, this town produces white Burgundy with hints of Montrachet's golden richness, but a less stratospheric price tag.
At the eastern edge of the St. Aubin appellation lies a plot named "Murgers des Dents de Chiens." Perched just up the hill from Montrachet itself, this St. Aubin 1er cru is a remarkable value. It's everything that white Burgundy should be – rich, refreshing, complex, and elegant.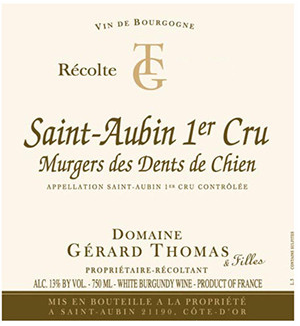 Fresh.  We spent last week tasting 2013 white Burgundies from up and down the Côte d'Or, and we were continuously impressed with the results our producers obtained in the difficult vintage. It's a vintage characterized by energy and bright, classically Burgundian mouth feel —  what they call "vif." Buttery California chards these are not.
The 2013 St. Aubin 1er cru from Gérard Thomas is a delicious example from this lively vintage. Look for notes of lemon, toast, and almonds, with a refreshing mouthfeel that should quench your thirst on a humid afternoon. For culinary pairings, try fish or chicken, in a cream-based reduction.
_
________________________

THOMAS St. Aubin 1er cru 2013
Ansonia Retail: $35
offer price: $29.95/bot
_
AVAILABLE IN 6-  AND 12- BOTTLE LOTS
_
_
_
_____________________________