Fresh and dry.  Rosé just keeps getting better. With demand on the rise, vignerons are experimenting with new cuvées and interesting blends. The Domaine les Goubert, long our favorite source for Gigondas, joined the game last year with the excellent dry "Rosé de Flo," a project of the family's daughter Florence.
For this year's rosé, Florence altered the blend of grapes.  We were a bit nervous when we first heard this, as the 2013 was so popular, but we needn't have worried. The 2014 is even better — a blend of grenache, mourvèdre, and an unusual local grape called brun argenté — and we're certain it will find as many friends as last year's.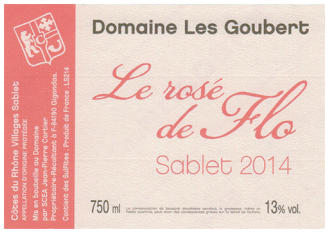 New and improved.  The change between vintages is apparent even by sight. Where the 2013 was a salmon orange-pink, the 2014 is a darker pink-purple. The flavor profiles echo this shift as well: the nose is wild strawberry jam, with secondary notes of honey and faint lavender.
Because it's grown further south, there's more material in the mouth — it's just a tad fuller than a rosé from Alsace or the Loire. But the mouth is dry and beautifully balanced, showing raspberries and lemon rind. It's a better food rosé than last year's version — during our visit last month Florence suggested roasted mullet or tapenade.
Bone dry, with 13% alcohol and a beautiful delicate acidity, this wine is dangerously easy to drink — the bottled we opened yesterday disappeared with remarkable haste. Open one with a salad or tapenade and you'll be transported to Provence. Open one on a sweltering afternoon later this summer, and you'll think it a gift from the winemaking gods.
_
________________________

GOUBERT Rosé de Flo 2014
Ansonia Retail: $18
offer price: $15/bot
_
AVAILABLE IN 6-  AND 12- BOTTLE LOTS
_
_
_
_____________________________