Microsource.  The tiny Burgundy village of Morey-St-Denis covers just under four tenths of a square mile. It has long played second fiddle to its famous neighbors Chambolle-Musigny and Gevrey-Chambertin, but in fact it holds five Grand Cru vineyards and produces excellent red Burgundies. At their best, the wines of Morey-St. Denis show a beautiful lace-like minerality, and an elegance only possible in Pinot Noir from Burgundy.
Our producer in Morey-St-Denis is the Domaine Pierre Amiot, which has a large range of wines from the town. Amiot's wines often drink better after a few years in the bottle, so we're suggesting four wines with 3 to 8 years in the bottle. This case is an excellent way to get to know the Domaine Amiot, and to see remarkable range within the corners of this tiny town.

Amiot's village level Morey-St-Denis is bright and delicate, and with eight years in the bottle has blossomed into a delicious, classic earthy wine. Look for notes of wild cherries and toast, and decant this for a half hour before serving.
The Millandes 1er cru 2007 shows raspberry and wild cherry fruit in the nose — now eight years after the harvest, it has begun to show toasty "sous bois" elements like mushrooms and forest floor. The tannins have softened, but retain enough structure to match well with foods. The Amiots suggest red meats and ripened cheeses.
"Aux Charmes" 1er cru 2010 shows one of the characteristics of Morey-St-Denis we like best: a warm, agreeable earthiness. In the nose there's smoke and toasted red fruit; in the mouth you'll find the cool dense tannins characteristic of this small but very fine vintage.
As the youngest wine in the case, Ruchots 1er cru 2012 has many years ahead of it. But it's already expressive aromatically, showing excellent dark woodsy fruit and plenty of juicy tannin. This will benefit from some cellaring, but as with most 2012s is surprisingly drinkable today.
_
MIXED CASE: AMIOT RED BURGUNDY SAMPLER
3x   Morey-St-Denis 2007:   $52
3x   Morey-St-Denis 1er "Millandes" 2007:   $65
3x  Morey-St-Denis 1er "Aux Charmes" 10:   $72
3x  Morey-St-Denis 1er "Ruchots" 2012:   $78
_______________________
Ansonia Retail: $801
Notebook price: $685/case

(free East Coast shipping)   |   save $116
_ 
_
–
– _
_____________________________
Enjoy this article? Sign up to receive them in your inbox.
_
_____________________________
_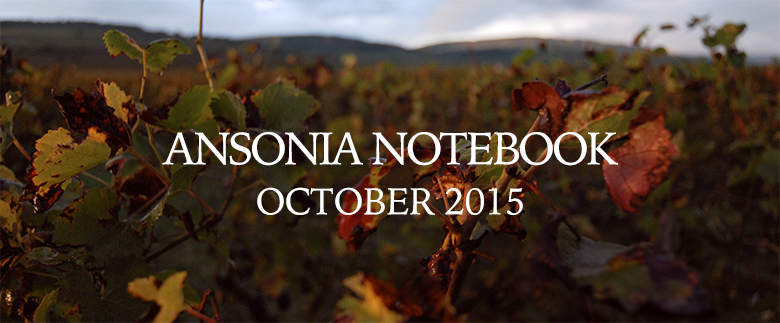 –
–
_