Nectar des Dieux. For about a thousand years between the 5th and 15th centuries, French monks dominated the world of wine. It was the monks, tasting the products of the rich Burgundian soils (and often the soils themselves), that first developed the idea of terroir.
In the south of Burgundy, winemaking culture centered around the Abbaye de Cluny, which by 1000 was the wealthiest monastic organization in the Western world. Much of its wealth and fame came from the product of the local vineyards. And it is from these vineyards, now in production for over 1100 years, that today's wine hails.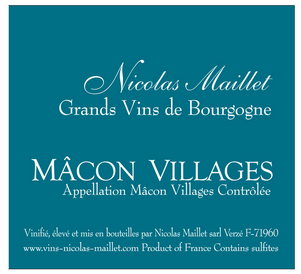 France profonde. Nicolas Maillet is a passionate young winemaker working in the heart of the Maconnais. His wines are as pure an expression of the Chardonnay grape as we know, with no oak to obscure the gorgeous fruit. They have the purity and clarity of fine Chablis, but the weight and roundness of a Côte d'or Chardonnay. Grown about five miles east of the famous Cluny Abbey, this is as traditional as white Burgundy gets.
The nose on the 2013 Maillet Macon Villages is all spring flowers and honeysuckle, with faint notes of dried straw. In the mouth it's a typical Macon — rich and full with bright floral notes, beautiful acidity, and lots of depth. For white Burgundy fans, this is a remarkable value — far more complexity here than the price tag suggests.
________________________

MAILLET Macon-Villages 2013
Ansonia Retail: $24
case, half-case: $19.95/bot


_
AVAILABLE IN 6- AND 12- BOTTLE LOTS
_
_
_
_____________________________
Sign up to receive these posts in your inbox:

__
_____________________________
_

-_
_____________________________
_

–
_