New Pinot, Old World.  Red Burgundy is known as a wine lover's red wine, often requiring years of aging and a hefty price of entry. Even mature, many red Burgundies exhibit a finesse and delicacy can be drowned out by the cacophony of New World tannin and oak.
But not all red Burgundy is complicated. While Burgundy's most famous wines come from the Côte d'Or to the North, many of its more accessible come from further south. Today we're pleased to introduce a new wine from a new (almost) producer — the small, family-owned Domaine Desvignes in Burgundy's Givry.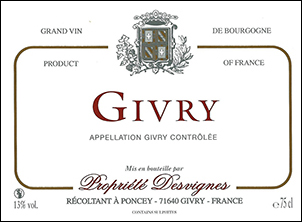 Wild Raspberries.  We discovered the Proprieté Desvignes in Givry during our year in Burgundy. We were away for a while, but our visit in June reaffirmed what we found nearly 17 years ago — a quality domaine making tasty red Burgundy at affordable prices. We've stocked up on two Givrys, and are pleased to release the first today.
The Desvignes Givry "Meix au Roy" is a Burgundy disguised as a Côtes du Rhône. There's more rusticity and juiciness than Burgundy from further north, but the same pure, delightful Pinot Noir fruit, and deliciously accessible mouthfeel. Look for fresh wild raspberries in the nose, and a crackling lively mouthfeel. This is a charming wine that succeeds in being just what it sets out to be — hearty and refreshing.
This would be an excellent choice for Thanksgiving, borrowing a bit of the exuberance from its neighbor Beaujolais to the south, but adding just a hint of refinement from the more finesse-inclined Pinot Noir. For readers who enjoy red Burgundy on a regular basis, here's a break on the usual bill associated with the affliction. For those unaccustomed to French Pinot Noir, here's a great place to start.
________________________

DESVIGNES Givry 2012
Ansonia Retail: $26
case, half-case: $22/bot


_
AVAILABLE IN 6- AND 12- BOTTLE LOTS
_
_
_
_____________________________
Sign up to receive these posts in your inbox:

_
_
_____________________________
_

-_
_____________________________
_

–
_