A Thousand Bottles. Of the 12,000 acres of vineyards planted in Chablis, only 250 qualify as Grand Cru. This highest tier includes seven distinct vineyards, each famous in its own right. But among the seven, the Grand Cru "Les Clos" is generally considered the finest. And it is from these hallowed 68 acres — just one tenth of a square mile — that today's wine hails.
As Master of Wine Clive Coates puts it, Les Clos is "Chablis at its very, very finest… combining depth, intensity, and great elegance." Our tasting chez Collet usually ends with their excellent Grand Cru "Valmur;" but in June, Romain concluded with a bottle of 2013 Les Clos, explaining that a tiny plot of 65-year-old vines (less than half and acre — enough for about 1,000 bottles) has found its way into the family lineup. Our delight at the new addition was surpassed only by the contents of the glass.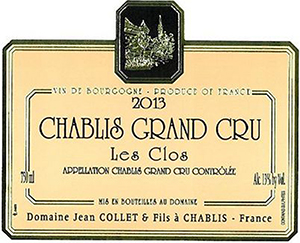 As good as it gets. One whiff of the Collet's 2013 Les Clos, and you'll understand the hype — it may be the finest wine we've tasted from Collet's impressive lineup. The nose shows exquisite lemon, pear, and mineral aromas, and follows with an extraordinarily long, rich, tension-filled mouth. It's hard to imagine more concentration or density in white wine, particularly one with nearly imperceptible use of oak.
This wine is yet another example of the Chablis discount — the product of a brand name still suffering from barely drinkable California knockoffs of decades ago. Where Grand Cru White Burgundy from the Côte d'Or is hard to find for less than $100/bottle (and often exceeds $350), the very finest Chablis has to offer can be had for less than $60.
Les Clos is famously long lived wine, with aging potential stretching out a decade or more; and the longer you can keep your hands off of it, the better it will be. We opened a bottle last week, we'd suggest decanting it (yes, decanting), for an hour or so before serving, at least for the next 6-8 months. Give it a year, and you'll wish you had bought more; but even in its youth, Les Clos is unmistakably in a class of its own.
________________________

COLLET Chablis Grand Cru "Les Clos" 2013
Ansonia Retail: $66
case, half-case: $59/bot


_
AVAILABLE IN 6- AND 12- BOTTLE LOTS
_
_
_
_____________________________
Sign up to receive these posts in your inbox:

__
_____________________________
_

_____________________________
_

–
_