Know your winemaker. In Burgundy, it's important to know your geography. Tiny changes in location can have large effects on the wine in the bottle. But because almost all vineyards are divided among several growers, it's even more important to know your winemaker.
Michel Gros of Vosne-Romanée is perhaps the most famous in our lineup of Burgundian winemakers. Most of his wine is priced for a weekend dinner or a special occasion — (look for a top notch Vosne next week) — but Gros also produces a delicious "petit vin" made for everyday drinking: his Bourgogne.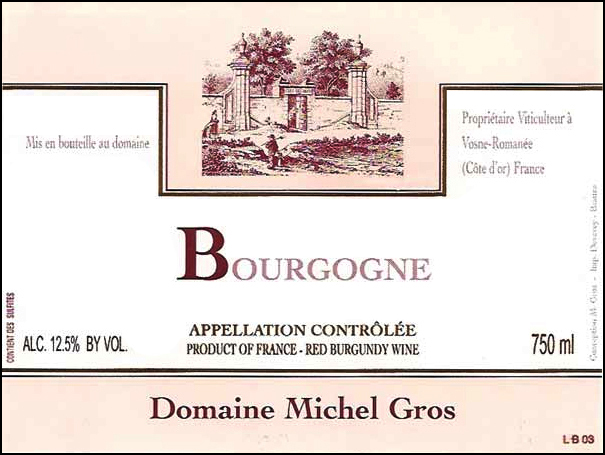 Entry-level red. If you're new to red Burgundy, this is a perfect introduction. (If you've already got the bug – as we do – this is the best Bourgogne-level wine we know.) It is Gros's simplest wine, but is as good a value as any of his higher priced bottles. We're expecting the 2013 next month, but we recently bought the rest of the excellent 2012, and we suggest that wine today.
Gros's Bourgogne 2012 has a clean, elegant nose, with notes of raspberries and violets, and a whisper of smokiness. The mouth is cool and silky, very long, and simply delicious; the fruit is ripe but not juicy, nicely mouth coating, and tremendously elegant for its level.
This is a great way to learn about this elite winemaker's work without breaking the bank. With the entertaining season now full upon us, it's always nice to have an affordable, reliable red Burgundy on hand. Pair this with a pork loin with garlic and rosemary, or a holiday cocktail party.
________________________

MICHEL GROS Bourgogne 2012
Ansonia Retail: $30
case, half-case: $24/bot


_
AVAILABLE IN 6- AND 12- BOTTLE LOTS
_
_
_
_____________________________
Sign up to receive these posts in your inbox:

__
_____________________________
_

_____________________________
_

–
_