Hidden Gem.  St-Aubin is the insider's white Burgundy. While writers spill most of the ink on the great wines from Puligny-Montrachet and Chassagne-Montrachet, savvy drinkers know of the treasure that lies three minutes to the west, in a valley between the two famous towns. The wines from the tiny, hidden village of St-Aubin may lack the aging power and depth of Chassagnes and Pulignys, but they remain what Rajat Parr calls "some of the best-value Chardonnay in the world."
The Famille Thomas has an intimate knowledge of the terroir of St-Aubin, where they've lived and made wine for over 70 years. Today Gérard Thomas works alongside his two daughters, and their understated, highly affordable wines are some of the best sellers in our portfolio. We opened the 2013 village level over the weekend for a tasting at our warehouse, and found it to be in a perfect drinking window.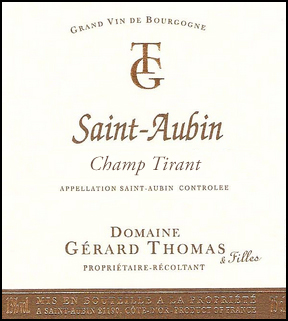 Drink-now. The 2013 St-Aubin "Champ Tirant" is a pure expression of a single, limited terroir. Over the last 8 months, the wine's initial vigorous acidity has melted beautifully into the round, mouthfilling palate. Today it shows gorgeous round fruit and muted toasty notes, with baked lemon and almond in the nose. It has the richness needed for a wintery white wine, but enough freshness to keep it lively.
Food pairings for white Burgundy are not difficult. According to Parr, who heads up the wine programs for Michael Mina's extensive restaurant group, white Burgundy pairs best "with oiler and meatier poached fish like halibut, salmon, monkfish, cod and grouper." Monkfish is a particular favorite at our house, and we look forward to matching it with our next bottle of St-Aubin.
________________________

THOMAS St-Aubin 2013
Ansonia Retail: $34
case, half-case: $28/bot


_
AVAILABLE IN 6- AND 12- BOTTLE LOTS
_
or call Tom: (617) 249-3657
_
_
_____________________________
Sign up to receive these posts in your inbox:

_
_____________________________
–