Complexity.  Nicolas Maillet is our new source for chardonnay from southern Burgundy. His wines are classic examples of white Maconnais — cool, round chardonnay with excellent balance and little or no oak. If the Côte d'Or is home to Burgundies of pedigree and refinement, then the Maconnais is home to Burgundies full of vibrancy and joy.
Maillet takes this idea one step further, vinifying his wines using biodynamic viticulture, indigenous yeasts, and a slow, months-long fermentation. The result is wine of remarkable complexity and purity, a veritable symphony of flavors in the glass. Maillet is a man full of passion — for his vineyards, for his rootstocks, for biodynamics, and for the purity of his harvest. And he manages to translate all of this energy into truly extraordinary wines.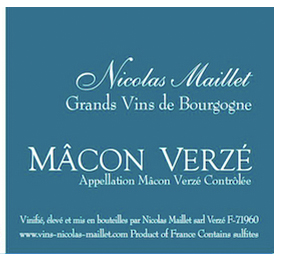 Passion.  Maillet doesn't lack confidence in his techniques, and after a sip of his wine, you won't either. His Macon-Verzé 2013 shows a dazzling array of notes in the nose, including white flowers, green tea, tangerine, and apricot. The mouth is classic Maillet — rich and long and pure, but with striking freshness and a beautiful baked lemon core.
With no oak to overshadow the pure fruit, this is Maconnais at its best, showing beautiful, unadulterated ripe chardonnay fruit. So complete is the palate of this wine that it requires no accompaniment from food. Should hunger or houseguests force your hand, we suggest cow's milk cheeses like Comté or Beaufort. Depending on the time of day, a bowl of steamed mussels would not be unwelcome.
________________________

MAILLET Macon-Verzé 2013
Ansonia Retail: $28
case, half-case: $22.95/bot


_
AVAILABLE IN 6- AND 12- BOTTLE LOTS
_
or call Tom: (617) 249-3657
_
_
_____________________________
Sign up to receive these posts in your inbox:

_
_____________________________
–