Invention.  Sparkling wine is one of the world's great culinary innovations. Who deserves credit remains unsettled. Is it the monks of Limoux, who mark 1531 as the genesis? Or the Champenois, who in turning a "fault" into a feature certainly won the publicity war? Or perhaps the Brits, who invented glass bottles thick enough to contain the pressure, and who by the numbers enjoy it more than anyone else?
Whomever you credit with taming the "vin du diable," we can agree they deserve many thanks. We've written enthusiastically about our new producer, Pascal Bardoux, whose small batch grower Champagnes are elegant and delicious. But sparkling wines are made throughout France, and thought they may not match Champagne for complexity, they've certainly got it beat on price. (And they're no less fun to open.)
Fresh.  Our favorite everyday sparkling wine is from the Maison Picamelot in Burgundy. Founded back in 1926 by the son of a cooper and winegrower, Picamelot is one of the oldest sparkling wine producers in the area. They use the same in-bottle fermentation method pioneered in Champagne, and their wines are elegant and fresh.
Picamelot's Crémant "les Terroirs" is a white blend of three grapes (Pinot Noir, Chardonnay, Aligoté) from three different regions around Burgundy. This wine is aged on its lees for a year to gain complexity and texture, and the result is a delicious glass full of energy and very fine bubbles. The nose is floral with notes of apricot, and the mouth shows toast and lemon.
This is a perfect accompaniment to a plate of shellfish or a large salad. Pair it with a homemade caesar salad, and the wine will cut beautifully through the rich dressing.
________________________

PICAMELOT Crémant de Bourgogne
Ansonia Retail: $24
half-case : $18/bot


_
AVAILABLE IN  6-  AND 12-  BOTTLE LOTS
_
or call Tom: (617) 249-3657
_
_
_____________________________
Sign up to receive these posts in your inbox:

_
_____________________________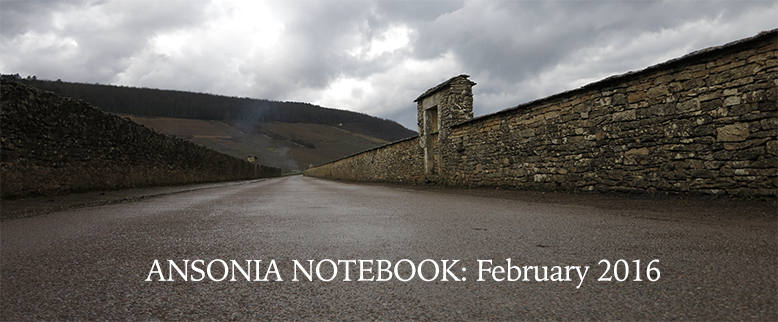 _____________________________
–