The Languedoc is the world's largest wine producing region, with over 700,000 acres of vines. The region traces its winegrowing history back to 125 BC, making it one of the oldest as well. For many years it has been known for abundant, cheap, and largely uninteresting wine.
But in the past few years the Lanugedoc has gone through a renaissance of sorts. Younger growers have moved to the region, bringing new techniques and meticulous cultivation of land and vines. Our two producers here make wines as good as any in our portfolio, and farm their unique terroirs with passion and care.
This mixed case collects four wines from our two producers — two from the Clos Bagatelle in St-Chinian, and two from the Mas Foulaquier in Pic-St-Loup. All four are dark, rich, and well balanced — perfect for the last few weeks of cool weather.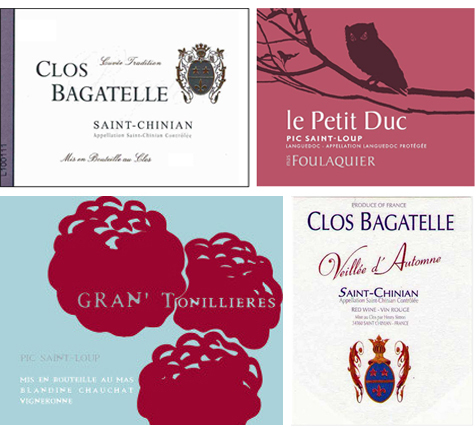 Bagatelle St-Chinian Tradition 2013
This blend of Syrah, Grenache, Carignan and Mourvèdre is planted in St-Chinian's high elevations, and gains minerality from the appellation's schist-laden soils. The palate shows raspberries and sage, and the mouth is dark and fresh. Pair this with nearly anything from the grill, or a simple pasta dish.
Bagatelle Veillée d'Autmone 2011
This cuvée shows more depth than its simpler cousin. Veillée d'Automne has a higher percentage of syrah, and a more muscular and concentrated mouthfeel. Look for notes of stewed plums and blackberry jam; serve with a hearty skirt steak.
Foulaquier Petit Duc 2012
Petit Duc is a nearly all Greanche cuvée made in Foulaquier's signature biodynamic style. The nose is very expressive, showing cherry pie and spice. The mouth is cool, earthy, and fresh. Pair with dishes with a bit of spice, or pork schnitzel.
Foulaquier Gran'T 2011
Foulaquier's finest wine is the Gran'T, a blend of Grenache and Carignan from their oldest vines. This wine shows silky dark fruit and a long, mineral finish. Look for notes of raspberry and thyme; pair with something spiced like Moroccan Lamb stew.
_
MIXED CASE:
LANGUEDOC SAMPLER
3x   Bagatelle Tradition 2013:   $14
3x   Bagatelle Veillée d'Automne 2011:   $22
3x   Foulaquier Petit Duc 2012:   $28
3x   Foulaquier Gran'Tonillieres 2011:   $38
_______________________
Ansonia Retail: $306
mixed case price: $235/case

(free East Coast shipping)   |   save $71
_ 
_
–
– _
_____________________________
Sign up to receive these posts in your inbox:

__
_____________________________

_ 
_____________________________
–