The Loire Valley is a pastoral land of magnificent chateaux and humble goat cheese makers. The range of wines made across its 250 mile expanse is just as dramatic: sparkling and still, dry and sweet, and everything from almost-clear Muscadet to deep purple Chinon. There's a wine here for almost every taste, and our new Loire Sampler showcases the impressive range of wines from the region.
At the eastern end of the valley, the twin towns of Sancerre and Pouilly-Fumé produce wines of pure Sauvignon blanc, separated only by subtle differences and the Loire river itself. In the heart of the Loire Valley lies Chinon, known for its dense, juicy reds from pure Cabernet Franc. And at the Loire's mouth on the rugged Atlantic coast, the appellation of Muscadet produces brisk, energetic white wines that pair perfectly with fruits of the nearby ocean.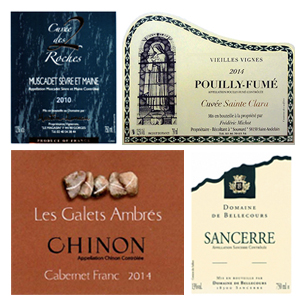 Bellecours Sancerre 2013.
The Bellecours Sancerre is made from pure, unoaked Sauvignon Blanc, with a rich, expansive mouthfeel and electric freshness. Look for notes of grapefruit and gunflint, with steely minerality and a long, beautiful finish. Serve with a rich fish in butter.
Michot Pouilly Fumé VV 2014.
Our most recent find in the Loire Valley is Frederic Michot, a small scale producer just east of the river. His old vines from the 1940s produce an intense, delicious Sauvignon Blanc showing very ripe grapefruit, lime, and wild herbal honey. Serve with goat cheese on crackers.
Demois Chinon 2014.
Fabien Demois recently converted his vines to biodynamics, and his juicy, pure Cabernet Franc is inky and dark. Look for a crackling fresh mouthfeel, and notes of graphite, cool ripe berries, chocolate, and a hint of smokiness. Serve a bit cool with a chicken dish.
Martin-Luneau Muscadet 2010.
Our new Muscadet producer makes classic, bright Muscadet from Melon de Bourgogne grown near the Atlantic coast. Their "Cuvée Deux Roches" shows lime rind, salt air, and melon, with a zippy, refreshing mouthfeel. Serve with salty cheese, or anything from the sea.
_
MIXED CASE:
LOIRE VALLEY SAMPLER
3x   Bellecours Sancerre 2012:   $28
3x   Michot Pouilly-Fumé 2014:   $24
3x   Demois Chinon 2014:   $24
3x   Martin-Luneau Muscadet 2010:   $19
_______________________
Ansonia Retail: $285
mixed case price: $219/case

(free East Coast shipping)   |   save $66
_ 
_
–
– _
_____________________________
Sign up to receive these posts in your inbox:

__
_____________________________
–