Dense.  Vine age is important in determining the taste of wine. As a vine ages it yields fewer grapes: the quality of the fruit improves, but the quantity decreases. Winemakers face an important and difficult decision of when to replant, sacrificing quality for quantity.
We're always happy to find a winemaker who has held off replanting in favor of quality. Old vines produce concentrated wines that show excellent depth and range. A recent favorite in this category is the "Puy Rolland," a cuvée of Chateauneuf-du-Pape made from a single plot 100-year-old grenache vines.
It's unusual to find Châteauneuf-du-Pape that's pure Grenache, but it's even rarer to find one from vines planted during World War I.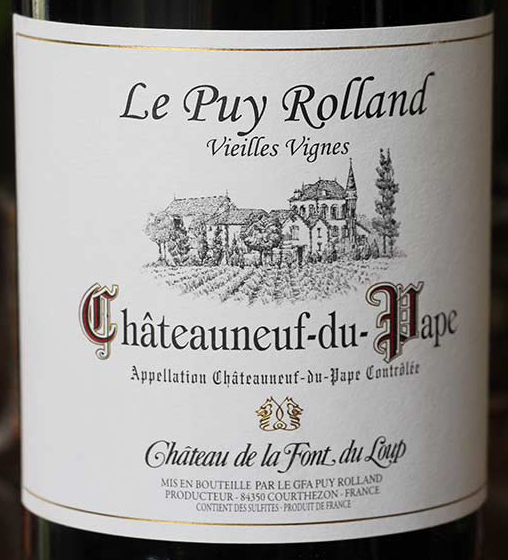 Centenarian.  The Chateau la Font du Loup is a small producer in the eastern half of Chateauneuf-du-Pape. Most Chateauneuf-du-Pape is a blend of grenache, syrah, mourvèdre, and a handful of other grapes. Font du Loup reserves the finest, oldest parcel of pure Grenache for this single wine. They don't make much of it, but the quality is first rate.
The 2013 Puy Rolland is the most enjoyable young Châteauneuf-du-Pape we've had in years. With extremely concentrated fruit and beautiful fine-grained tannins, this is ready to drink even today, and made lots of friends at our warehouse tasting last week. The nose is wild strawberry jam, with fruit blended into a beautiful cool earthiness. The mouth is soft and silky, with good balance and exceptional density.
This should drink well for a decade or more; but where much Châteauneuf-du-Pape requires at least half that time, this one would be a joy to drink tomorrow.
________________________

FONT DU LOUP Chateauneuf-du-Pape "Puy Rolland" 2013
Ansonia Retail: $54
quarter case: $48/bot


_
AVAILABLE IN  3-   6-  AND 12-  BOTTLE LOTS
_
or call Tom: (617) 249-3657
_
_
_____________________________
Sign up to receive these posts in your inbox:

_
_____________________________