The Northern Rhône is best known for its classic all-syrah reds from Côte Rôtie and Hermitage. These spiced, inky wines age well for decades, and are precise expressions of a unique marriage of grape and land. Nowhere else does syrah taste quite like this. Most bottles from Hermitage and Côte Rôtie, however, require diligent cellaring and come with a starting price around $50.
Which is why we're so glad to have found the wines of Denis Basset from the Domaine Saint Clair in Crozes-Hermitage. Basset's wines provide an opportunity to enjoy dark, peppery Northern Rhône syrah with greater frequency and lower investment. His 2013 Crozes-Hermitage "Etincelle" has just arrived in our warehouse. It is a perfect red for the transition from winter to spring.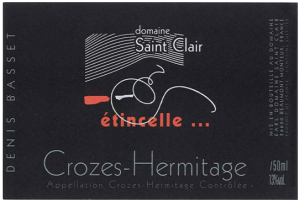 Basset is a young winemaker who is passionate and very talented — the latest issue of the Guide Hachette featured two of his four wines, an impressive feat for a winemaker who started only five years ago. Basset came to winemaking through an accident with a high-voltage wire that nearly cut short his life. Upon leaving the hospital, he decided to pursue his lifelong dream of making wine from his family's vineyards. Lucky for us.
Like the best wines of the Northern Rhône, the 2013 Crozes-Hermitage is dark and dense without being the slightest bit heavy. At 13%, it's dark and chewy but not too rich. The profile is classic Northern Rhône syrah: savory black fruit, black pepper and bacon in the nose, with clove and violets in the mouth.
This is dark but vibrant syrah, a versatile and excellent match for food. Our choice might be something with lamb and mediterranean spices, like this Daniel Boulud leg of lamb.
________________________

SAINT CLAIR Crozes-Hermitage 2013
Ansonia Retail: $26
case, half-case price: $22/bot


_
AVAILABLE IN  6-  AND 12-  BOTTLE LOTS
_
or call Tom: (617) 249-3657
_
_
_____________________________
Sign up to receive these posts in your inbox:

_
_____________________________