Easy.  Some wines we import are meant for grand occasions. These are the famous wines of Bordeaux, Burgundy, and Champagne — bottles to pull from the back of the cellar when the moment is significant. We think there's no better accompaniment to a special moment than a special bottle of wine.
Today's offer is not for that sort of wine. The Sablet from the Domaine les Goubert fits best in an unexceptional moment — something to reach for after a long day of work, or a cozy companion for that new season of House of Cards. It hits a sweet spot between balance, versatility and price. It's a wine you don't need to think hard about to enjoy.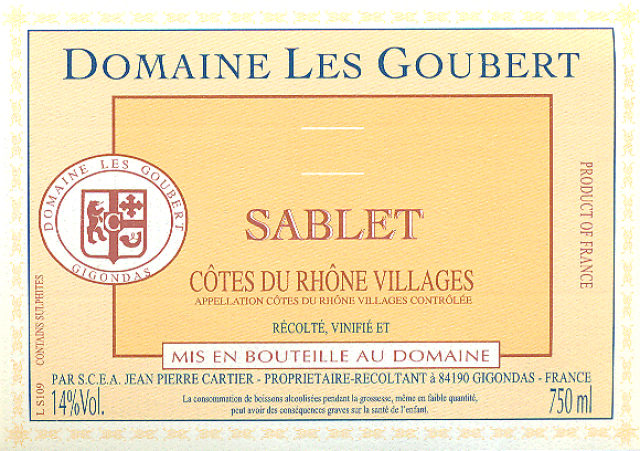 By-the-glass.  Goubert's Sablet is the house red for many of our readers and friends. It's a Côtes du Rhône Villages, a notch up from a simple Côtes du Rhône, and shows more stuffing and a noticeably smoother mouthfeel. We find ripe dark raspberry fruits, hints of leather and spice, and a full but nicely balanced mouthfeel.
Food isn't necessary with Sablet — it's a perfect by the glass wine that drinks well right out of the bottle — but it certainly won't clash with something from the kitchen. We serve the Sablet with everything from spicy garlic pasta (cool the wine a bit before serving), to a hearty French salad, to anything from the grill, particularly marinated chicken.
This wine unlikely to win prizes for profundity or longevity, but that's not always the wine that best fits the moment. Leave the $200 Grand Crus for anniversaries or birthdays — Goubert's Sablet will fit just about everywhere else.
________________________

GOUBERT Sablet 2012
Ansonia Retail: $18
case, half-case price: $14.95/bot


_
AVAILABLE IN  6-  AND 12-  BOTTLE LOTS
_
or call Tom: (617) 249-3657
_
_
_____________________________
Sign up to receive these posts in your inbox:

_
_____________________________