"Natural wine" is a popular buzzword these days, one with varied definitions and no lack of controversy. Whatever you take it to mean — biodynamic, no sulfites, organic, unfiltered — the goal is the same: to create wine with little intervention between grape and glass.
At their best, natural wines show vivacity and energy often lacking in conventional styles. These wines leap from the glass, full of exuberance and life, trading polish for gusto, neatness for verve. Here's a mixed case — two whites and two reds — from four winemakers working in some interpretation of a natural style.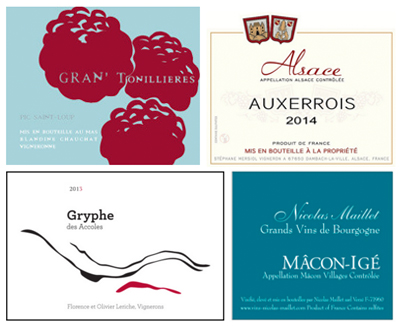 Mersiol Auxerrois 2014
The Domaine Mersiol's vineyards have been fully organic for more than a decade. Their crisp, expressive whites combine the stoniness of the granite countryside with the floral profusion of Alsatian spring. Auxerrois is a variation of Pinot Blanc, a grape with a mouthfilling, unctuous texture. Look for notes of peach and apricot, cut by lemon acidity.
Accoles Gryphe 2013
Winemaker Olivier Leriche brought his biodynamic techniques along when he left Burgundy's Domaine de l'Arlot to start a new domaine in Ardèche. He carefully cultivates his old-vine carignan using biodynamic viticulture, and produces this delicious, earthy, low alcohol (12.5%) pure Carignan cuvée. Look for dried blueberry in the nose with licorice and dark chocolate in the mouth.
Maillet Macon Igé 2014
Nicolas Maillet is a passionate young winemaker working in the southern half of Burgundy. His wines are pure Chardonnay, unencumbered by oak, filtering, or heavy sulfite use. As a result his wines are dazzlingly complex, showing white flowers, green tea, tangerine, apricot, and more. Maillet's commitment to organic viticulture clearly shows through his extraordinary, exuberant wines.
Foulaquier Gran'T 2011
The Mas Foulaquier was our original source for biodynamic wine. Winemakers Pierre Jéquier and Blandine Chauchat believe fervently in their craft, and their vineyards in the northern Languedoc teem with insects and wildflowers. Their wines are similarly vibrant and full of life, with bursting aromas and a cool, balanced earthiness. Their Gran'T is the finest wine they make, a blend of their oldest plots of carignan and grenache. Look for raspberries and lavender.
_
MIXED CASE:
NATURAL WINE SAMPLER
3x   Mersiol Auxerrois 2014:   $18
3x   Maillet Macon-Igé 2014:   $28
3x   Accoles Gryphe 2013:   $24
3x   Foulaquier Gran'T 2011:   $38
_______________________
Ansonia Retail: $324
mixed case price: $245/case

(free East Coast shipping)   |   save 25%
_ 
_
–
– _
_____________________________
Sign up to receive these posts in your inbox:

__
_____________________________
–