Complete.  Most wines taste better with a meal; some really require food to reach their full potential. But other wines are complete glasses on their own. One of our favorites in this "aperitif" category is the Auxerrois from our friends at the Domaine Mersiol in Alsace. Whether you're welcoming guests to a dinner party, or looking for something refreshing on a late Saturday afternoon in spring, this is the perfect standalone glass of white.
Mersiol's wines embody the Alsace's signature blend of fruit, flowers, and freshness. Christophe Mersiol attributes the exceptional purity in his wines to an unwavering commitment to organic agriculture. His Auxerrois is a variation on a Pinot Blanc, and displays a perfect balance between round, mouthfilling fruit, and stony, crystalline freshness.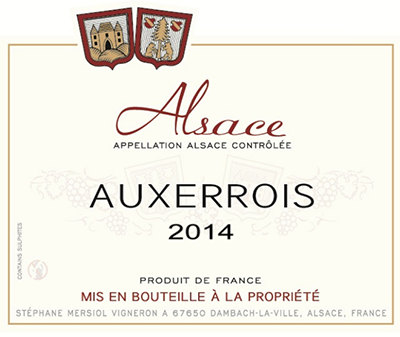 Fresh.  We think the secret to Auxerrois's appeal is the ratio of fruit to acidity to alcohol. Like Pinot Gris, Auxerrois is a grape with a high potential for viscosity — in the wrong hands it can turn flat. But Mersiol's Auxerrois is 12.9% alcohol and shows beautiful peach and apricot fruit cut by a sharp, lemon acidity. The result is a straightforward, utterly drinkable wine.
Auxerrois needs no accompaniment — think of it as great background music, rather than a concert in its own right. But if you're hungry and an open bottle appears in your kitchen, consider grilled chicken, goat cheese, or a simple salad. Spring may not have arrived just yet, but when it does you'll want a bit of this on hand.
________________________

MERSIOL Auxerrois 2014
Ansonia Retail: $17
case, half-case: $13.95/bot


_
AVAILABLE IN  6-  AND 12-  BOTTLE LOTS
_
or call Tom: (617) 249-3657
_
_
_____________________________
Sign up to receive these posts in your inbox:

_
_____________________________