Most coverage of the wines of Burgundy focuses on premier crus and grand crus, the region's top two classification levels. But for the savvy Burgundy enthusiast, there's no shortage of interesting wines at the village level. Often pulling from several plots inside a single town, these wines provide excellent opportunities to appreciate the character of a single village.
We've put together a mixed case of six village-level wines from the Côte d'Or — two white, four red. Each wine deftly expresses the characteristics of its village, and they display the region-wide terroir shifts that make Burgundy both complicated and fascinating.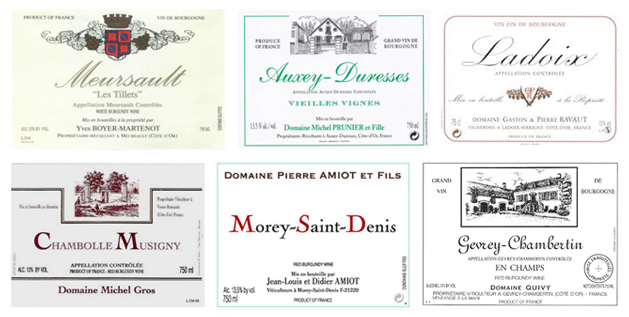 Boyer Meursault 13
Meursault is known for rich white wines that are both round and energetic. Vincent Boyer is a rising star in the village, and his Meursault "Tillets" shows white flowers, pear, and hazelnut. Serve this with lobster in butter.
Prunier Auxey-Duresses 14
Auxey-Duresses usually produces wines with less richness than its neighbor Meursault. But Prunier's old-vine Auxey Duresses is a concentrated, dense white Burgundy one could easily mistake for high-elevation Meursault. Look for elderflower and lemon rind; serve with swordfish.
Ravaut Ladoix 09
Ladoix is an often forgotten town on the border between the Côte de Nuits and Côte de Beaune. Ravaut's 2009 Ladoix is ripe and delicious, showing cinnamon and currants in the nose, with round, punchy tannins in the mouth. Serve with a roast chicken.
Gros Chambolle-Musigny 11
Michel Gros's Chambolle-Musigny is a classic, showing the silkiness and elegance for which the appellation is famous. Allen Meadows called Gros's 2011 Chambolle "utterly delicious;" look for notes of wild cherries, earth, and smoke. Serve with pan-seared duck breasts.
Amiot Morey-St-Denis 07
The Amiot domaine is right on the main street of Morey-St-Denis, and their village level red is classic. It shows very fine minerality, raspberries and blackberries, and a delicate woodsiness. Serve this with a steak salad or some hard cow's milk cheese.
Quivy Gevrey-Chambertin 12
Gérard Quivy's 18th century house in the middle of Gevrey-Chambertin is as meticulous and ornate as his wines. His 2012 Gevrey-Chambertin shows graham cracker and dense raspberry, with a cool, energetic mouthfeel. Serve with skirt steaks given plenty of browning.
_
MIXED CASE:
VILLAGE LEVEL BURGUNDIES
2x   Boyer-Martenot Meursault 13:   $50
2x   Prunier Auxey-Duresses 14:   $45
2x   Ravaut Ladoix 09:   $36
2x   Gros Chambolle-Musigny 11:   $72
2x   Amiot Morey-St-Denis 07:   $52
2x   Quivy Gevrey-Chambertin 12:   $52
_______________________
Ansonia Retail: $614
mixed case price: $495/case

(free East Coast shipping)   |   save $116
_ 
_
–
– _
_____________________________
Sign up to receive these posts in your inbox:

__
_____________________________
–