Around the Corner.  Much of New England has slipped behind a veil of rain this week, and the May sun feels a long way off. But the warm weekend weather drove more than a few green shoots from the soggy ground and the air seems to have turned a corner towards spring. It's not quite rosé season, but it's not far off either.
In the meantime, we're excited to introduce a new vintage of wines from our friends at Mas Foulaquier in the Languedoc. Many readers know Foulaquier for their commitment to pure, unadulterated, vibrant red wines from the south of France. Their fervent belief in biodynamics and organics translates into some of the most expressive and delicious wines we import.
These smooth, inky, floral wines are the perfect segue from winter to spring. Today we're releasing the 2013 "Petit Duc," a majority Grenache wine, and among their finest efforts yet.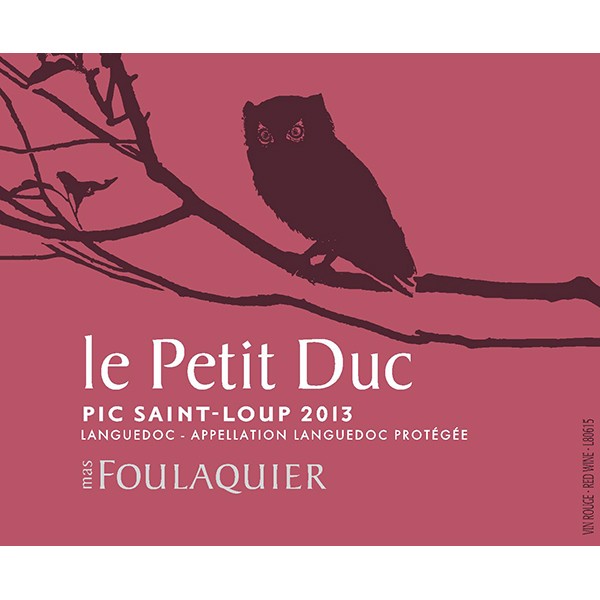 Vibrant.  Walking into a Mas Foulaquier vineyard is like entering a primordial garden. The winemakers practice minimal intervention, eschewing pesticides and chemical treatments. Their rows of vines are full of bees, rabbits, and wildflowers. Foulaquier wines are similarly vibrant and full of life — the aromas burst from the glass, unhindered by filtering or heavy sulfur.
The 2013 Petit Duc is elegant and delicious. The nose is complex and beautifully expressive, showing deep black cherries, earthy fruit, and cool spring flowers. The mouth is clean and dark, with notes of wild cherry pie and cassis. The splash of Syrah helps to smooth out the tannin, and make this an effortlessly drinkable glass of wine.
We enjoyed this last night with a simple London broil and a springtime salad. It may be blustery and rainy outside, but while we wait for the warm breezes to arrive, at least there's some springtime already here in a glass of Foulaquier.
________________________

FOULAQUIER Petit Duc 2013
Ansonia Retail: $34
case, half-case: $28/bot


_
AVAILABLE IN  6-  AND 12-  BOTTLE LOTS
_
or call Tom: (617) 249-3657
_
_
_____________________________
Sign up to receive these posts in your inbox:

_
_____________________________