"Épuisé."  At the start of every tasting, Rhône winemaker Denis Basset gives us small taste of white. "Just to set the palate," he explains, before continuing on to his rich, syrah-based reds. The white is always lovely — floral and fresh, beautifully expressive, and a perfect way to start a tasting. And every year, when we ask how much we can buy, he smiles and shakes his head. (Loyal local restaurants are to blame).
This year, en finalement, we have secured a few cases of Basset's beautiful Crozes-Hermitage blanc. Those who know Basset's reds (Crozes-Hermitage, Saint-Joseph) will recognize the same precision and purity in his white. If the aromas of Basset's reds are too many to count — cloves, black pepper, bacon, to name a few — then the nose of the white Crozes-Hermitage is perhaps even more complex.
You could be fooled this week into thinking that spring was a long way off. But when it does get here, you'll want a glass of this in your hand.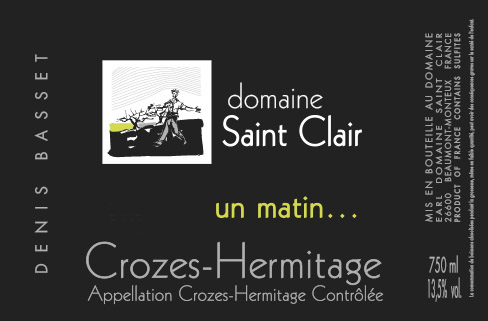 Exotic.  Denis Basset runs the Domaine Saint-Clair, which he started several years ago after spending the first decade of his working life in the family's flower business. He has rapidly gained confidence and acclaim; recently both Decanter and the Guide Hachette listed him in a dynamic new generation of Crozes-Hermitage winemakers.
Basset's white is Rousanne-Marsanne blend (70/30), in the style of a classic northern Rhône. The nose is soft and enveloping, with tropical notes of mango, pineapple, and green tea. The mouth is rich and round, but well balanced, showing nectarine and honey notes. There's so much exotic fruit in the nose you almost expect this to be sweet, but the mouth finishes cool and soft and dry.
We're thrilled to finally have the chance to share this enticing, lovely wine with our list, but we'll warn you there isn't much to go around. Limit one case per person.
________________________

SAINT CLAIR Crozes-Hermitage 2014
Ansonia Retail: $26
case, half-case: $22/bot


_
AVAILABLE IN    6-  AND 12-  BOTTLE LOTS
_
or call Tom: (617) 249-3657
_
_
_____________________________
Sign up to receive these posts in your inbox:

_
_____________________________