Bone-dry Riesling. There is no more underappreciated wine than Riesling. Many US consumers have sworn off the grape, having been burned by syrupy Rieslings with no life and too much sugar. But for lovers of dry wine, there's enough bone-dry Riesling out there to make Riesling avoidance foolhardy. Tall skinny bottle + "Riesling" ≠ sweet.
One of the liveliest and most delicious examples of dry Riesling in our portfolio comes from the Domaine Mersiol's Grand Cru vineyard Frankstein. Grown organically from 30 year old vines, this wine perfectly conveys the landscape of its origin. Crisp notes of lime zest and melon with a delicate, precise minerality bolster the expressive nose of elderflower and peach. This symphony of spring perfectly echoes the landscape of wildflowers and vines that sprout from the granite-laden slope.
The iconic importer Terry Theise once said, "there are times when I think that any sip of wine that isn't Riesling is wasted." Take a sip of this wine, and you'll know what he meant.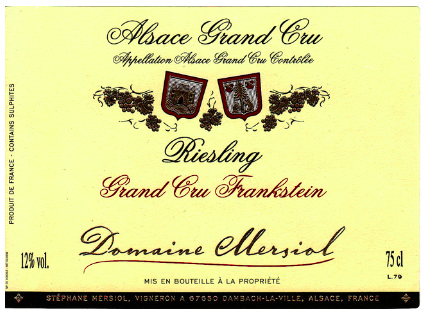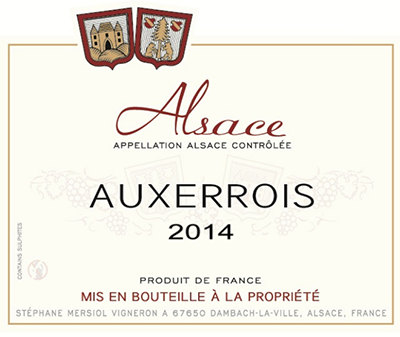 Back in Stock.  We're also thrilled to report that Mersiol's Auxerrois is back in stock. If the Grand Cru Riesling will pair with anything from grilled trout to raw oysters to, as Christophe puts it, "Coq au Riesling," then the Auxerrois is the perfect standalone summer wine.
Like Pinot Gris, Auxerrois is a grape with a high potential for viscosity — in the wrong hands it can turn flat. But Mersiol's Auxerrois is 12.9% alcohol and shows beautiful peach and apricot fruit cut by a sharp, lemon acidity. The result is a straightforward, utterly drinkable wine. (Read our full writeup from March here.)
Auxerrois fits in perfectly at an outdoor summer cocktail party. Serve your guests a glass of Auxerrois when they arrive, and a glass of the Grand Cru Riesling at table — just be ready for them to ask for seconds on both.
________________________

MERSIOL Riesling Gr. Cru "Frankstein" 13
Ansonia Retail: $30
case, half-case: $24/bot


AVAILABLE IN   6-   AND  12-   BOTTLE LOTS
_
________________________

MERSIOL Auxerrois 2014
Ansonia Retail: $17
case, half-case: $13.95/bot


AVAILABLE IN   6-   AND  12-   BOTTLE LOTS
Email Tom to order either wine.
or call Tom: (617) 249-3657
_
_
_____________________________
Sign up to receive these posts in your inbox:

_
_____________________________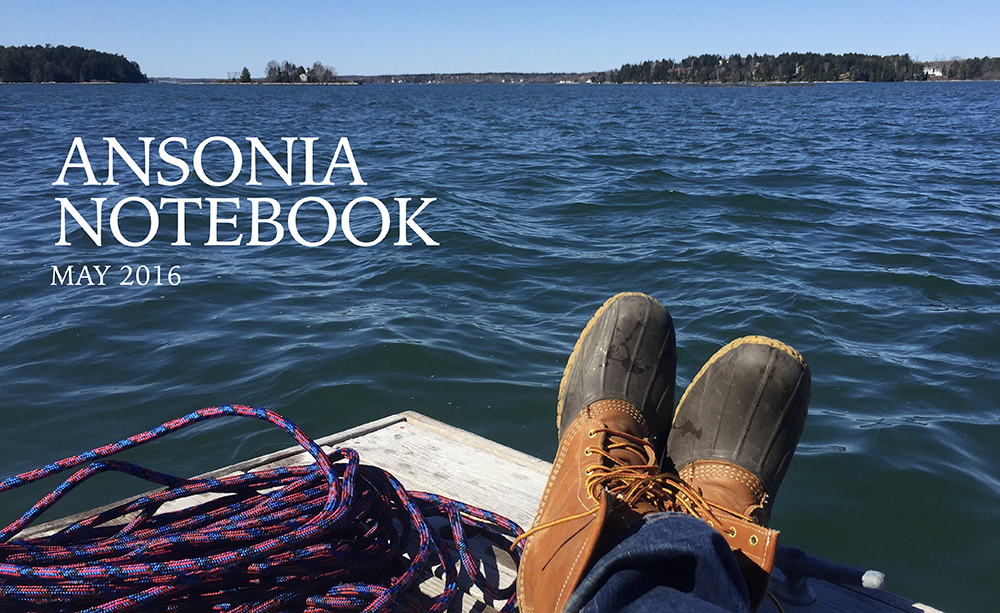 ________________________