It may be spring for another month, but here in Boston it's starting to feel more like summer. Warm weather can make wine pairing tricky — heat and alcohol rarely go well together, and a cold beer is sometimes the best fit. But when the moment or the meal calls for wine, we look for bottles with low alcohol, good freshness, and wines that are tasty chilled.
Today's mixed case is for 6 wines — three whites, two reds, and a rosé — that are perfect for the summer heat. All are crisp and food friendly, but complete enough to serve as an aperitif. And with a price tag under $16.50 a bottle, this is a handy case to have for a crowd of thirsty cocktail party guests.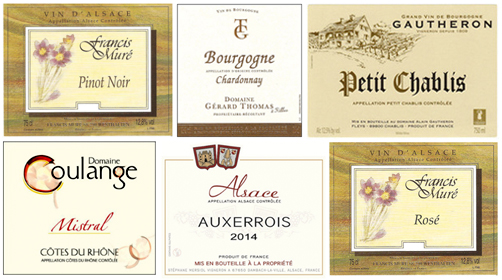 Thomas Bourgogne blanc 2013
This is the quintessential white Burgundy — a nose of lemon and hazelnuts, round ripe fruit in the mouth, a hint of oak, and brisk citrus acidity to keep it fresh.
Mersiol Auxerrois 2014
This Alsatian variation on a Pinot Blanc is smooth and round, with notes of melon and honey — perfect for an aperitif, or pair with simple cheese and crackers.
Gautheron Petit Chablis 2015
This ever-popular wine has just returned to our inventory — it's pure chardonnay, unoaked, with beautiful delicate minerality. Serve with any appetizers featuring fish or shellfish.
Mure Pinot Noir 2014
Muré's only red is as floral and lovely as any of his whites. It's cool and refreshing, showing ripe cherry fruit and pleasant soft tannins. Serve cooled with goat cheese.
Coulange Mistral 2013
This unoaked, fruit-forward blend of grenache and syrah is at the lightweight end of the Côtes du Rhône spectrum, making it perfect for summer. Serve with grilled chicken.
Muré Rosé 2015
Muré's delightful Pinot Noir rosé is vibrant, floral, and crisp. The nose shows wildflowers and raspberries, with a fruit-forward but dry mouth. Serve chilled, with anything.
_
MIXED CASE:
SUMMERTIME SAMPLER
2x   THOMAS Bourgogne blanc 13:   $24
2x   MERSIOL Auxerrois 14:   $18
2x   GAUTHERON Petit Chablis 14:   $22
2x   MURÉ Pinot Noir 14:   $24
2x   COULAGNE Mistral 13:   $14
2x   MURÉ Rosé 15:   $20
_______________________
Ansonia Retail: $244
mixed case price: $195/case

(free East Coast shipping)   |   save 20%
_ 
_
–
– _
_____________________________
Sign up to receive these posts in your inbox:

__
_____________________________
–