Chardonnay inhabits nearly every corner of the wine world, but nowhere does it reach the same expression as in Burgundy. The gently sloping hillsides of Burgundy are uniquely suited to growing perfectly balanced Chardonnay — sunny enough to ripen grapes fully, but northern enough to retain enough acidity to provide lively freshness.
We've put together a collection of four white Burgundies and set the price under $30 per bottle. Two are premier crus from Chablis, and two are from the Côte d'Or — one from the northern end, and a Premier Cru from the southern end. There's no wrong time to drink white Burgundy, but a cool glass on a sweltering July day may be the most right.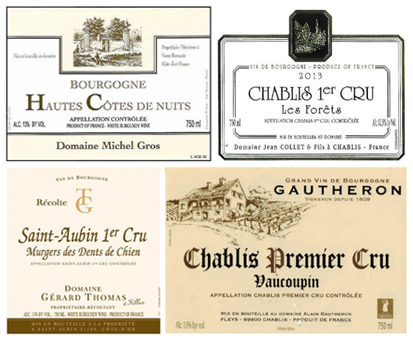 Collet Chablis 1er cru 2013
Jean Collet is a well known family domaine in the heart of Chablis, where they make pure, classic Chablis. Their Premier Cru Forets is rich and ripe, with notes of pear and straw, crisp minerality, refreshing acidity, and a careful use of oak.
Thomas St-Aubin 1er cru 2014
Gérard Thomas and his daughters make excellent wine from their hometown of St-Aubin, a source for some of Burgundy's greatest values. Their 1er cru St-Aubin is an exquisitely balanced white Burgundy with notes of lemon peel, toast, wild honey, and almond.
Gros Hautes-Côtes de Nuits blanc 2013
Michel Gros is best known for his classic red Burgundies from Vosne Romanée. But he also makes an excellent white from the hills to the west of his domaine. This is round and full with notes of hazelnut and baked lemon, and in 2013 comes with exceptional balance.
Gautheron Chablis 1er cru Vaucoupin 2014
Cyril Gautheron is among the rising stars in Chablis. His wines are made from pure, unoaked Chardonnay at its most elemental. His premier cru Chablis is full and elegant — there's classic Chablis minerality behind the dense, rich core of Chardonnay fruit.
_
MIXED CASE:
WHITE BURGUNDY UNDER $30
3x   COLLET Chablis 1er cru 13:   $34
3x   THOMAS St-Aubin 1er cru 14:   $40
3x   GROS Hautes-Côtes de Nuits blanc 13:   $36
3x   GAUTHERON Chablis 1er cru 14:   $30
_______________________
Ansonia Retail: $420
mixed case price: $325/case

(free East Coast shipping)   |   save $95
_ 
_
–
– _
_____________________________
Sign up to receive these posts in your inbox:

__
_____________________________

–