Value in Freshness. The idea of value is extremely subjective when it comes to wine. A $60 bottle of Burgundy might seem a steal to some, an extravagance to others. But nearly everyone agrees that Muscadet is just about the best bargain going.
Muscadet is a crisp, precise, dry white wine that is the essence of freshness – it's abundant and inexpensive. Made from the Melon de Bourgogne grape, and the best examples are raised "sur lie" (on the lees) to add complexity. Writer Lettie Teague summed it up nicely once, saying "a glass of $8 Muscadet will always be a better wine than an $8 glass of something else."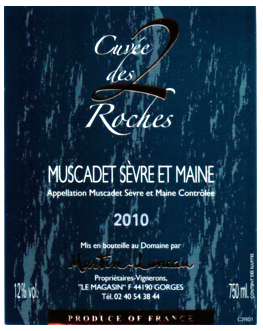 Freshness.  We discovered the Domaine Martin-Luneau in the only way Muscadet should be discovered: over a few dozen oysters on the outdoor patio of a bistro in Nantes last June. Their "Cuvée Deux Roches" is bright and crisp, with lime rind and melon in the nose, and zippy, refreshing acidity in the mouth.
The marriage with seafood is so harmonious it's hard to think of reasons for other suggestions: grilled fish, pan seared scallops, steamed lobster, and most perfectly, oysters. Last night we enjoyed a bottle with moules marinières and fresh bread; the match was fantastic. But for the fish-phobic, we'll admit it's also a delicious thirst quencher for a salty cheese.
________________________

MARTIN-LUNEAU Muscadet de Sèvre et Maine 2010
Ansonia Retail: $19
case, half-case: $14.95/bot


_
AVAILABLE IN   6-   AND  12-  BOTTLE LOTS
_
or call Tom: (617) 249-3657
_
_
_____________________________
Sign up to receive these posts in your inbox:

_
________________________


________________________

Terms of sale. Ansonia Wines MA sells wine to individual consumers who are 21 or more years of age, for personal consumption and not for resale.  All sales are completed and title passes to purchasers in Massachusetts.  Ansonia Wines MA arranges for shipping on behalf of its customers upon request and where applicable laws permit.