Grape vs. Place. Wine classification can be confusing — categorization changes dramatically from one region to another. The Old World tends to identify wines by place, while the New World tends to use grape varietal. It seems a minor shift, but it has important implications for the way people perceive wines.
An example: call a wine Merlot and noses turn up (thanks, Sideways). Call the wine Pomerol, and you've suddenly caught our attention. In fact, Pomerol is proof that great wine can be made from Merlot. Today we're releasing the 2011 Pomerol from the Chateau la Clemence, a wine we're sure would convert anyone to the grape.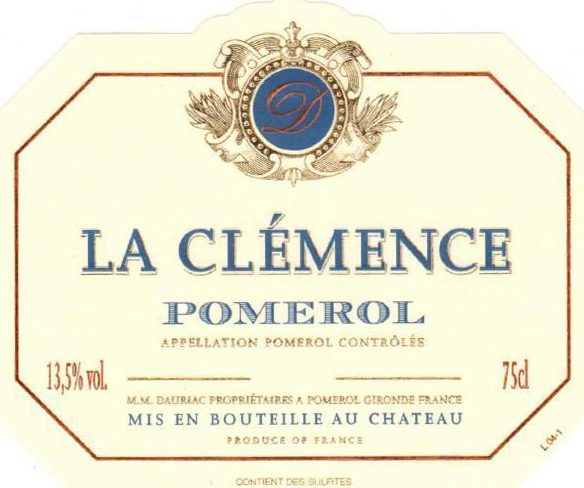 Dense. Clemence is classic Pomerol — bold, rich, and smooth. The average vines in the tiny 7 acre vineyard are over 50 years old, and winemaker Christian Dauriac keeps yields low, often near 20 hectolitres per hectare. The result is a wine built to last for decades. The rich, concentrated fruit makes it easy to enjoy now, but its best days are certainly ahead of it.
The 2011 Clemence shows dark, stewed cherries, licorice, and toast in the nose; the mouth is long and rich, with jammy plum fruit, dark chocolate, and tobacco. With 5 years in the bottle this is already beginning to smooth out, and with a peppery steak it's a treat. But if you've got room in the back of your cellar for a long-term investment, this one should provide a healthy return.
________________________

CHATEAU LA CLEMENCE Pomerol 2011
Ansonia Retail: $92
quarter-case: $79/bot


_
AVAILABLE IN   3-   6-   AND  12-   BOTTLE LOTS
_
or call Tom: (617) 249-3657
_
_
_____________________________
Sign up to receive these posts in your inbox:

_
________________________


________________________

Terms of sale. Ansonia Wines MA sells wine to individual consumers who are 21 or more years of age, for personal consumption and not for resale.  All sales are completed and title passes to purchasers in Massachusetts.  Ansonia Wines MA arranges for shipping on behalf of its customers upon request and where applicable laws permit.