Cornwall. Cider has seen a recent explosion in popularity. From large beer companies to small scale New England farms, everyone has jumped into the game, and "craft cider" is no longer hard to find. As with wine, cheese, and other culinary arts, most serious American cider makers have made the pilgrimage to France to study the origins of their craft.
What they find is what we're offering today: traditional, earthy, sparkling cider made on the rugged Breton peninsula. Bretagne (Brittany) is a starkly beautiful coastal region, blanketed by rolling green hills and ancient stone walls, resembling England or Ireland more than the rest of France. For centuries the Bretons have cultivated an extensive network of orchards, pressing a wide variety of apples into their hardy local sparkling drink.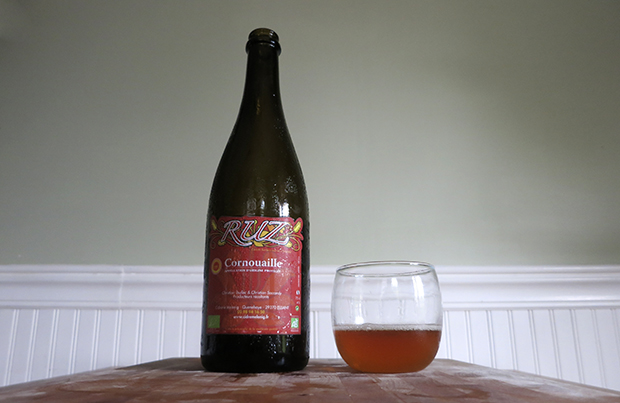 Cidre. We've yet to taste a domestic cider quite like this one from Melenig. The flavors are of earth, apple skins, black tea, and dried fruits; the mouthfeel is woodsy and rustic — a perfect representation of the rugged windblown coast. There's a hint of ripe apple sweetness when first in the mouth, but the finish is dry and textured.
At 4% alcohol, this is a refreshing, complex, and delightful drink, as affordable as it is delicious. Serve it cold, with goat cheese salad or, if you really want to be authentic, crêpes. We've enjoyed the pairing with grilled swordfish and roasted cauliflower — a lovely match on a warm summer evening.
________________________

MELENIG Cidre de Cornouaille
Ansonia Retail: $16
case, half-case: $12.95/bot


_
AVAILABLE IN   6-   AND  12-   BOTTLE LOTS
_
or call Tom: (617) 249-3657
_
_
_____________________________
Sign up to receive these posts in your inbox:

_
________________________


________________________

Terms of sale. Ansonia Wines MA sells wine to individual consumers who are 21 or more years of age, for personal consumption and not for resale.  All sales are completed and title passes to purchasers in Massachusetts.  Ansonia Wines MA arranges for shipping on behalf of its customers upon request and where applicable laws permit.