Winemakers in Burgundy often struggle with the weather — between hailstorms, vine maladies, and rain, it's surprising wine gets made there at all. But two hours south in the Rhône Valley, things are (quite literally) much sunnier. The winemakers of the Rhône are blessed with abundant sun, disease resistant sandy soils, hearty vines, and a healthy north wind called the Mistral.
We've collected three of our favorite wines from the warm winemaking paradise along the banks of the Rhône River. These are cool, meaty wines with vibrant energy and hints of their bright, sundrenched origin. Pair them with grilled meats and vegetables, and drink them as the season begins to turn to autumn.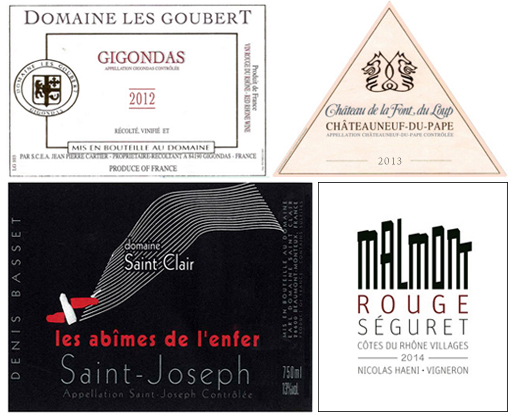 TASTING NOTES:
Malmont Séguret 2014
Grenache/Syrah blend: Nose shows violets and dark burnt cherries, with black pepper and a hint of toast. Mouth is ripe and pleasant with juicy tannin and notes of plum and blackberry.
Goubert Gigondas 2012
Grenache/syrah blend: Nose shows bright red flowers and dark rich fruit, hitting high notes and low notes simultaneously in a harmony unusual even for the Cartier family. The mouth is sturdy and meaty, with cool dark tannins and impressive length.
Saint Clair Saint-Joseph 2013
Basset's 2014 Saint-Joseph is already beautiful. The nose shows spices, violets and intense black pepper; the mouth shows blackberry jam with notes of roasted meat and licorice. This intense wine clocks in at only 13% alcohol, so while it's mouthfilling and chewy, there's not a bit of heaviness.
Font du Loup CDP 2013
Font du Loup's 2013 Chateauneuf-du-Pape shows strawberry jam and baked fruits, with hints of sage and menthol. It's perhaps a bit more elegant than massive, but you won't miss the heaviness – the smooth, silky texture persists on an exceptionally long palate.
________________________

_
MIXED CASE: RHÔNE REDS
3x   MALMONT Séguret 2014:   $28
3x   GOUBERT Gigondas 2012:   $30
3x  SAINT CLAIR Saint-Joseph 2014:   $32
3x   FONT DU LOUP Chateauneuf 13:   $46
Ansonia Retail: $408
mixed case price: $325/case

free East Coast shipping   |   save $83
_ 
_
–
– _
_____________________________
Sign up to receive these posts in your inbox:

_
________________________


________________________

Terms of sale. Ansonia Wines MA sells wine to individual consumers who are 21 or more years of age, for personal consumption and not for resale.  All sales are completed and title passes to purchasers in Massachusetts.  Ansonia Wines MA arranges for shipping on behalf of its customers upon request and where applicable laws permit.