Bargain Bourgogne. White Burgundy is a near-perfect food wine. With the possible exception of Riesling, no wine goes so well with so many different dishes. Bottles from famous producers can run well past $100 per bottle, but you don't have to spend top dollar for delicious, classic white Burgundy.
Most Burgundy winemakers produce an entry-level "Bourgogne" wine from lower classified vineyards. These bottles are often great values, priced so you can enjoy them with weeknight meals or as a glass after work. Gérard Thomas, who makes the St-Aubin 1er cru we wrote about two weeks ago, also happens to make an excellent Bourgogne blanc.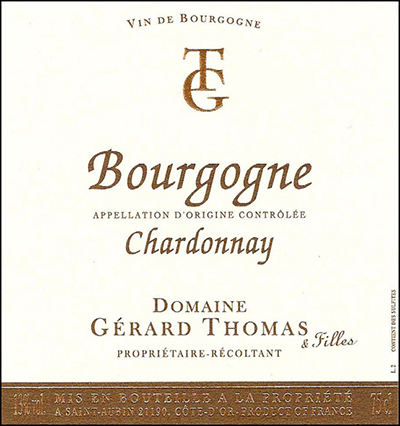 Versatile. Gérard Thomas's Bourgogne blanc has been the house Chardonnay at several renowned restaurants we've worked with, as well as at the homes of friends and extended family. There's just a touch of oak to round out the palate, but a brisk freshness to keep the wine lively. It's proof that good white Burgundy doesn't have to be expensive.
This is a perfect backyard barbecue white — great as a glass on its own, versatile enough to pair with pastas, shish kabobs, seafood, vegetables, etc. A favorite family pairing is grilled chicken breasts, marinated at least over night. At the Wilcox house, our simple marinade — canola oil, white wine, Franks Red Hot, soy sauce, garlic, and salt — combined with a glass of Thomas Bourgogne, is the very essence of summer.
________________________

THOMAS Bourgogne blanc 2013
Ansonia Retail: $24
case, half-case: $19.95/bot


_
AVAILABLE IN   6-   AND  12-   BOTTLE LOTS
_
or call Tom: (617) 249-3657
_
_
_____________________________
Sign up to receive these posts in your inbox:

_
________________________


________________________

Terms of sale. Ansonia Wines MA sells wine to individual consumers who are 21 or more years of age, for personal consumption and not for resale.  All sales are completed and title passes to purchasers in Massachusetts.  Ansonia Wines MA arranges for shipping on behalf of its customers upon request and where applicable laws permit.