A Secret Source.  Beside Chablis, the best secret in a white Burgundy lover's cellar is his stash of St. Aubin. The village is easy to miss, wedged in a valley between Puligny-Montrachet and Chassagne-Montrachet. And though it rightly plays second fiddle to these two giants, it's still a source for what wine writer Rajat Parr calls "some of the best-value Chardonnays in the world."
We too have found remarkable bargains in St. Aubin, and perhaps none more impressive than the 1er cru St. Aubin from Gérard Thomas. This wine comes from from the Murgers des Dents de Chien vineyard, a plot of vines high on a ridge from which one can see north and south along the golden slope.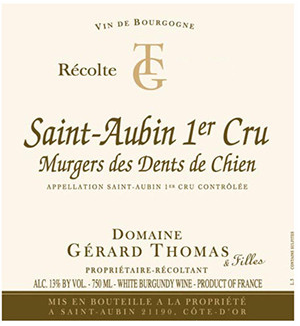 Consistent. The 2014 vintage in White Burgundy received glowing press right from the start, and we were mildly skeptical that the wines would all live up to the hype. But we needn't have worried — across the board the 2014s are rich, energetic, complex, and beautiful. We never worry about this St-Aubin — it's consistently delicious, despite a few difficult meteorological years in Burgundy — but the 2014 is the best in years.
The nose shows lemons and toast, with almonds and wild honey in the mouth. It's a bit prettier than the past few vintages, with an added note of elegance and grace. We drink this year round and with a wide range of foods, but it's perhaps best with a rich fish — think lobster risotto or grilled swordfish.
Whatever the occasion, when white Burgundy is called for, this is a delicious and affordable example that punches well above its weight.
________________________

THOMAS St-Aubin 1er cru 2014
Ansonia Retail: $40
case, half-case: $34/bot


_
AVAILABLE IN   6-   AND  12-   BOTTLE LOTS
_
or call Tom: (617) 249-3657
_
_
_____________________________
Sign up to receive these posts in your inbox:

_
________________________


________________________

Terms of sale. Ansonia Wines MA sells wine to individual consumers who are 21 or more years of age, for personal consumption and not for resale.  All sales are completed and title passes to purchasers in Massachusetts.  Ansonia Wines MA arranges for shipping on behalf of its customers upon request and where applicable laws permit.