The best known domaines in our portfolio are two sources of classic Red Burgundy: the Domaine Michel Gros and the Domaine Pierre Amiot. Their wineries are just three miles apart, and they both farm plots along the world's most famous stretch of vines. Winemakers Michel Gros and Jean-Louis Amiot were even grade school friends.
Their styles are slightly different — Gros's wines tend more towards elegance, Amiot's towards richness — but they represent some of the finest red Burgundies in our portfolio. We have collected four of our favorites, from four different towns and vintages. These are pure, masterfully made Pinot Noir from some of the most talented winemakers in Burgundy.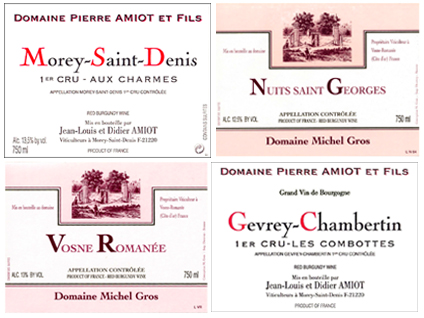 GROS Nuits-St-Georges 2009
The nose is dark and woodsy, showing roasted wild cherries and earth. There's plenty of round tannin left in this wine, which should carry it easily for several more years. But with a carafe and a half hour, this is elegant and delicious today.
AMIOT Morey-St-Denis 1er "Charmes" 2010
This wine shows a warm, agreeable earthiness, with smoke and toasted red fruit in the nose. In the mouth you'll find cool dense tannins characteristic of this small but very fine vintage.
GROS Vosne-Romanée 2011
The nose shows the unique, extraordinary spice and floral notes specific to the hallowed town. The mouth is dense and pure, with beautifully silky tannins that show the elegance possible from a perfect marriage of grape and place.
AMIOT Gevrey-Chambertin 1er "Combottes" 2013
From a premier cru vineyard surrounded by five grand crus, Combottes shows unusual depth and intensity. The nose is beautifully dark and floral nose, with notes of spice and mushrooms. The mouth is intense and rich, showing cassis, dark cherries and earth.
________________________

_
GROS/AMIOT SAMPLER
3x   GROS Nuits-St-Georges 2009:   $72
3x   AMIOT MSD 1er "Charmes" 2010:   $72
3x  GROS Vosne-Romanée 2011:   $74
3x   AMIOT Gevrey 1er "Combottes" 2013:   $95
Ansonia Retail: $939
offer price: $795/case

free East Coast shipping   |   save $144
_ 
HALF CASE ALSO AVAILABLE
(2x Nuits, 2x MSD, 1x Vosne, 1x Gevrey)
offer price: $397.5/half-case
_
–
– _
_____________________________
Sign up to receive these posts in your inbox:

_
________________________


________________________

Terms of sale. Ansonia Wines MA sells wine to individual consumers who are 21 or more years of age, for personal consumption and not for resale.  All sales are completed and title passes to purchasers in Massachusetts.  Ansonia Wines MA arranges for shipping on behalf of its customers upon request and where applicable laws permit.