Something New.  During our trips to France, we like to eat at restaurants with good local wine lists. It's a great way to broaden our regional palates, and sometimes we even discover a new wine for our portfolio. At dinner on a Séguret terrace this June we had the nicest surprise discovery in red Rhône wine that we've had in years.
It took a few days to track down Eric Chauvin after that dinner — his Domaine Souverain has neither an entry sign nor a website. But through several phone calls and a bit of luck, we managed to pick up samples, just to confirm that our enthusiasm wasn't jetlag-induced. A second taste reinforced our initial impression; and when the price list arrived, we were happier yet.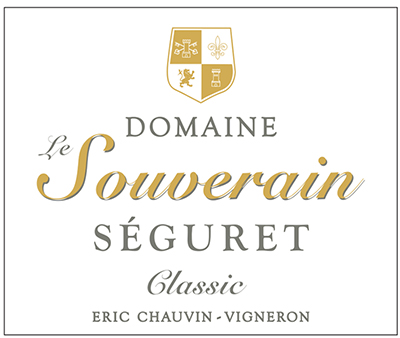 Diamond in the Rough.  The Domaine Souverain is a small-scale organic source in Séguret with no other US importer. Eric Chauvin is as humble as his wines are delicious, and we're thrilled to have stumbled upon such a source for underpriced Rhône wine. This drinks far more like a Gigondas or Vacqueyras than its Côtes-du-Rhône pricing suggests — before we got the price list we expected to offer it as an excellent and well-priced $25 red Rhône.
Souverain's Séguret 2014 shows a bright nose of blackberry and lavender, with a cool earthiness that fans of the Mas Foulaquier will immediately recognize. The mouth is beautifully balanced, with softened but present tannins, clean dark fruit, and a faint smokiness in the nose. This is lively, delicious, highly drinkable wine, with a perfect balance for an autumn meal.
Serve this wine as we enjoyed it on the terrace in Séguret, a bit cool, and enjoy watching it open as it comes up to the ambient temperature. If you have friends along, be prepared to open a second bottle.
________________________

SOUVERAIN Séguret 2014
Ansonia Retail: $19
case, half-case: $14.95/bot


_
AVAILABLE IN   6-    AND   12-  BOTTLE LOTS
_
or call Tom: (617) 249-3657
_
_
_____________________________
Sign up to receive these posts in your inbox:

_
________________________


________________________

Terms of sale. Ansonia Wines MA sells wine to individual consumers who are 21 or more years of age, for personal consumption and not for resale.  All sales are completed and title passes to purchasers in Massachusetts.  Ansonia Wines MA arranges for shipping on behalf of its customers upon request and where applicable laws permit.