Almost CDP.  The year is 1895. The United States number 44, and Grover Cleveland is president. Babe Ruth and Jack Dempsey are born, and inventor George Selden receives a patent for the automobile. And cross the ocean in France (then a six-day crossing by boat), a vineyard of grenache is planted just outside Châteauneuf-du-Pape.
Those vines (most of them, at least) are still alive and producing fruit from huge, gnarled, bush-like branches. Having outlasted phylloxera and several world wars, their yield is diminished but the quality of their grapes is better than ever.
We're excited to return the "Cuvée 1895" to our lineup. Next week's October Futures release will include three wines from the ancient Chateau Maucoil, including a red and a white Chateauneuf du Pape, but we're opening up the bidding early on this one.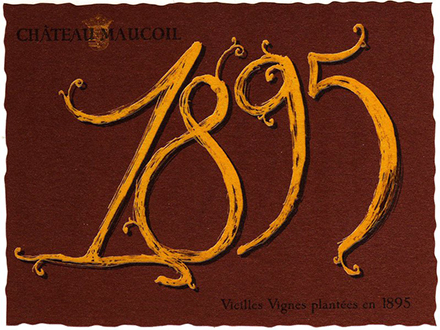 Methusalean.  The Chateau Maucoil is built on the site of an ancient spring, once popular among Roman soldiers traveling along the nearby Via Agrippa. The spring is still active today, and while the vines for this cuvée aren't quite from the Roman era, they're older than nearly everything else growing in the area.
The vines for "1895" lie just feet outside the Châteauneuf-du-Pape appellation border drawn in 1937. The wine they produce doesn't match the complexity or longevity of a Châteauneuf-du-Pape, but it's likely to be the richest and densest Côtes-du-Rhône Villages cuvée you've ever had.
The nose of the 2014 "1895" is dark and beautiful, showing ripe cherry and raspberry notes with dried fruits and leather. The mouth is full of classic grenache spice, wild cherries, and a hint of sweet licorice. This wine will arrive in the states with the rest of the October Futures, likely the first few weeks of November. It should be right at home on a Thanksgiving table, and if there's any left over, it'd pair nicely with a roast lamb at Christmas.
________________________

MAUCOIL "Cuvée 1895" 2014
Ansonia Retail: $360
Futures Price: $250/case    ($20.83/bot)


_
AVAILABLE BY THE CASE AND HALF-CASE
_
or call Tom: (617) 249-3657
_
_
_____________________________
Sign up to receive these posts in your inbox:

_
________________________


________________________

Terms of sale. Ansonia Wines MA sells wine to individual consumers who are 21 or more years of age, for personal consumption and not for resale.  All sales are completed and title passes to purchasers in Massachusetts.  Ansonia Wines MA arranges for shipping on behalf of its customers upon request and where applicable laws permit.