Scarce. White Châteauneuf-du-Pape is rare. Nearly 95% of the appellation's wines are red, and because of the warm climate and abundant sunshine, it's difficult to make wines with good balance. But in the hands of a careful winemaker, the unusual white grapes can produce beautiful and astonishing wines.
Back in June when we discovered Christophe Mestre, one of our new sources for Chateauneuf-du-Pape, we were drawn to his excellent and well priced red. But his white was so attractive and delicious that we decided to get some as well. For readers that have never tried white CDP, this is an excellent (and affordable) place to start.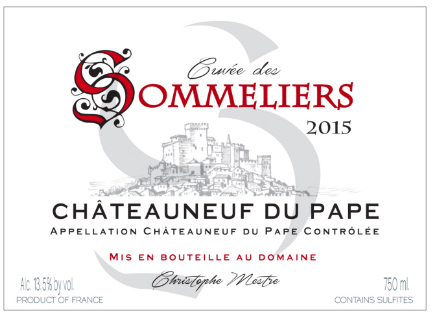 Bouquet.  Christophe Mestre's white is a blend of Grenache Blanc, Clairette, and Bourboulenc, all unoaked. From these traditional local white varietals, Mestre crafts a delicious, beautifully balanced wine. The nose is big and expressive, showing exotic fruits like pineapple and kiwi. The mouth is rich but refreshing, with mouthcoating richness that gives way to an energetic, spice-filled and savory finish.
White Chateauneuf is one of the world's great aperitif wines — a glass before a meal can set the mood like little else. But it's also a versatile match for a wide array of foods. The richness in the mouth means it pairs nicely with acidic foods, like a salad with vinaigrette, or a roast chicken with lemon. Either way, the aromatics on this wines are enticing — we recommend enjoying it from a Burgundy style balloon glass.
________________________

MESTRE Châteauneuf-du-Pape blanc 2015
Ansonia Retail: $34
case, half-case: $28/bot


_
AVAILABLE IN  6-  AND 12-  BOTTLE LOTS
_
or call Tom: (617) 249-3657
_
_
_____________________________
Sign up to receive these posts in your inbox:

_
_____________________________

_____________________________